(Green) Tea Time For Your Skin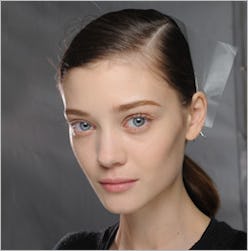 Given how much we enjoy (and require) our daily dose of caffeine via a steaming-hot cup of tea, it's only natural that we'd gravitate towards a skincare regimen with the same awakening effect. Boasting a range of prettifying benefits, products infused with green tea are becoming a beauty counter staple.
Boscia Oil-Control Mask ($34), Tay Makeup Remover ($26), Vivant Skin Care Antioxidant Cleanser ($30)
CLEANSE: Whether you prefer to wipe away the day via mask, makeup remover, gel cleanser or all of the above, a product formulated with green tea extract will help to gently do so. Known for its powerful antioxidants, amplify the benefits of your morning and nighttime regime with a hint of the herbal ingredient.
Arcona Toner Tea Bar ($42), Odacité Purifying Toner ($37), Amorepacific Green Tea Seed Treatment Oil ($195)
TONE & TREAT: Neutralize free radical damage while you tone with a bar, liquid or mist enriched with green tea. Camellia Sinensis (the ingredient's technical moniker) also touts anti-inflammatory properties, making it an ideal skincare candidate even for delicate complexions. A nurturing serum will deliver dehydrated skin with a concentrated dose of the extract, revealing resilient results.
"One of green tea's key ingredients is the extremely potent antioxidant epigallocatechin gallate (EGCG). It is key in preventing any further environmental damage — car exhaust, smoking, pollution — to the skin. If you're not using antioxidants in your skin care routine to protect from environmental damage, then you're not doing enough. Green tea extract is also really great for circulation — many products on the market include it to help improve functionality of the skin." —Oni Chaves, Licensed Medical Aesthetician at the Shin Beauty Bungalow in Santa Monica
Alba Botanica Oil-Free Moisturizer ($16), Tatcha Enriching Renewal Cream ($185), Absolution La Crème du Jour ($69)
MOISTURIZE: Antioxidants = anti-aging, so when it comes to a rich face cream, we say the more the better! Luxe lotions infused with GT help preserve your skin's elastin and collagen—free radicals, be gone! Tatcha, a resounding Team Zoe favorite beauty brand, touts the ingredient in many of its products, and here's why—
"Green tea has been a staple of the asian diet for over 4,000 years. Even then, there were volumes of books written on the health benefits of green tea and it has been called liquid jade because it is so precious. The major health benefits come from the antioxidant Epigallocatechin Gallate, which is considered the ninja of antioxidants among scientists. It is widely regarded as one of the most powerful antioxidants due to its efficiency in attacking free radicals, especially those which are caused by UV-induced oxidative damage." —Tatcha Founder Victoria Tsai
Youngblood Liquid Mineral Foundation ($47), Jane Iredale Disappear Concealer ($30), Palladio Herbal Lip Gloss ($5 each)
BEAUTIFY: Don't despair, makeup junkies—the benefits don't just stop at skincare! The ingredient has also made its way into accessible beauty products, from foundation, concealer, lip gloss and beyond. Soften and prettify with one flick of the wrist utilizing these tea-infused cosmetics.