How Joanna Vargas Prepped Her A-List Clients For Cannes 2019 — EXCLUSIVE
Joanna Vargas, Celebrity Facialist and Founder of Joanna Vargas Salons and Skincare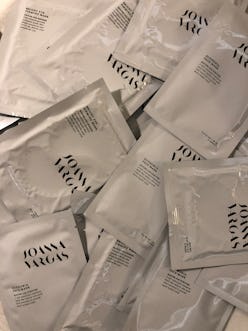 The lights, camera, and action at the Cannes Film Festival means that everyone needs to be ready for their close-up. So Joanna Vargas, celebrity facialist and founder of Joanna Vargas Salons and Skincare, is always up for the task. This season, she worked with Julianne Moore and Gayle Rankin to give them the signature glow that she's known for from coast to coast. It's easy to assume that preparing of 11 days of treatments is taxing, but Vargas tells TZR that she's relatively relaxed before flying off to France.
"I usually prepare for trips way in advance so I'm not stressed leading up," Vargas tells TZR. "I try and workout as hard as I can before going, so I'm calm and feel good for the trip. I've been doing a lot of boxing lately which is great for lymphatic drainage, stress management and good health."
It's a good thing that she gets her cardio in: the pro has to bring two huge trunks filled to the brim with products for facials, along with all of her equipment. (But like a novice traveler, she brings her Away carry-on for on-flight essentials. "It fits everything!" she says.) Aside from the necessities, she also packed a lot of jumpsuits by Mara Hoffman since they're "light and easy" and look good with her Comme des Garçons sneakers. "I try to stick with a work uniform for each trip so I'm comfortable and chic all at the same time. I'm doing a lot of walking this trip and need to be comfortable," she explains.
While the team didn't get a plus-one from Vargas (this time, at least!), she was still gracious enough to share a bit of her travel diary with us. See some of the exclusive images ahead.
"A typical day of facials includes a microcurrent, oxygen therapy, lymphatic drainage massage, and lots of love. I brought all my masks, all my serums and my Vitamin C Face Wash. The masks were great because I could give everyone the skin treatments they needed without being cookie cutter. Serums were massaged into everyone's skin with a lymphatic drainage massage to really make the skin glow."
"Logging in another 10 miles today with my Triple Crown Facial to-go! JV Products in my kit include the Vit C Face Wash, Daily Serum, Rescue Serum, Bright Eye Hydrating Mask, Bright Eye Firming Mask, Full Face Sheet Mask, Revitalizing Eye Cream, and the Rejuvenating Serum."
"One of my clients warned me that finding time to eat a meal was going to be a challenge, and she wasn't kidding! The first day, I clocked in 10 miles of walking. I hope that I can keep it up all week!"
Shop Joanna Vargas' Kit: