Your Favorite Hair-Clip Trend Now Comes In Earring Form, Thanks To BaubleBar's Latest Collab
Courtesy of BaubleBar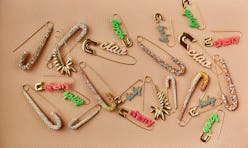 At this point, you've probably developed a well-curated collection of statement hair clips — you know, the small baubles that led to a major trend. Chances are, in your range of pearl-adorned pins and beaded snaps, you have a few styles with cheeky words or phrases on them. If those happen to be the favorites in your stock, then you're going to love the BaubleBar x Montserrat New York collab, which brings you the trend in the form of earrings.
If you aren't familiar with Montserrat New York yet, the jewelry and clothing brand is one to keep your eye on. Born out of a desire to create pieces with the electric energy of New York and carefree spirit of Costa Brava, Montserrat New York designs items that come together for every occasion, whether it's a day of errands or a night out.
Sitting among Montserrat New York's pretty pearl necklaces and seashell earrings is The Safety Pin Earring — one of its best-selling pieces. And now, the brand has teamed up with BaubleBar to reimagine the popular design with a playful twist. With a nine-piece collection featuring tongue-in-cheek words and elegant pavé details, it's a collaboration that's about to be in jewelry boxes everywhere.
Just in time for summer, you can get the $55 Cherry Safety Pin Earrings to add a cheerful touch to your ensembles. Of course, for those who can't get enough of anything with pearls, opt for the Ciao Safety Pin Earrings, $70. Wear these on their own to make a polished statement or, if you're feeling bold, style them with other pieces like an ear cuff or two. If you want to subtly wear the neon trend, opt for the $55 Spicy Safety Pin Earrings, which can also be worn as a pin on your jacket.
In case you want to wear something that feels more elegant, the collaboration includes the Pavé Safety Pin Earrings, which are available for $65. You can also get the Large Pavé Safety Pin Earrings for $75. Wear these to add a cool edge to any ensemble for a night out or a formal occasion.
Ready to add these to your wardrobe? Scroll down to see the full collection from the BaubleBar x Montserrat collaboration below, and then head over to BaubleBar to start shopping.