Acne Studios Created A Capsule With Starter Black Label — & Yes, A Baseball Jacket Is Included
Courtesy of Acne Studios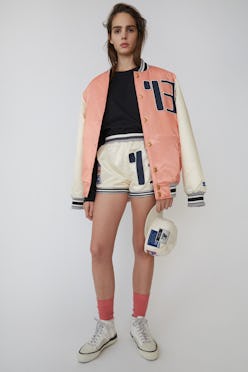 Oftentimes, the coolest things to come out of the fashion industry are the result of collaborations between brands you'd never have expected to team up. It's probably because said partnerships produce items so unique, it's unlikely anyone's seen anything similar before, and what better way to make a statement than with styles that are born to stand out? If you love an athleisure vibe you're in luck, because the Acne Studios x Starter Black Label collab is the latest cooperative collection to launch this season —and it's an incredibly easy way to do sporty style the fashion-girl way.
Any self-proclaimed style maven knows Acne Studios for its Stockholm-chic contemporary styles that expertly combine impeccable tailoring with an eclectic aesthetic. But unless you've also got a sporty streak, you may not be aware of Starter, a line of premium sportswear with a penchant for classic silhouettes like the iconic Starter baseball jacket.
Now, the two labels have linked up to create a fresh collection of playful athletic apparel-inspired pieces for Spring/Summer 2019, and you'll want to sprint right over to Acne Studios' site to get your hands on it ahead of the crowd. After all, what could be better than easy-to-wear athletic apparel with a fashion-girl twist?
All of the items included in the Acne Studios x Starter Black Label collab combine hallmark features from both brands — prominent among them, oversized logo patches playfully emblazoned across several pieces like this blue denim jacket, $690, and classic blue jeans, $570, for a sporty, street-style effect. Starter's classic sportswear silhouettes like the baseball jacket, $380, and basketball shorts, $170, have been rendered in luxe satin in Acne Studios' iconic pale pink shade to perfectly marry the two brand's personalities.
Staple pieces like straight leg denim and relaxed-fit t-shirts round out the collection, and provide more subtle athleisure style by way of embroidered logos. Acne Studios' classic 1997 jean, for one, looks edgy and cool in a distressed black denim, $290, with a pop of whimsy thanks to the pink embroidered Starter logo at the hip pocket. Pair it with the collection's oversized pink tee, $190, or with a plain tank worn under the effortlessly cool baseball jersey, $210.
Want to snag the sporty new pieces for yourself? Ready, set, scroll to shop some of the best styles — and head over to Acne Studios' site for more from the unexpected, yet incredibly cool collaboration.