The Unexpected Makeup Trend That Women In Their 20s Are Loving, According To Pinterest
ANGELA WEISS/AFP/Getty Images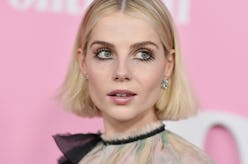 In case you haven't noticed, Twiggy's spider-like lashes and Brigitte Bardot's curtain bangs are back on the rise. Even recent Pinterest data is backing the resurgence of '60s makeup trends, so brace yourself for a major flashback to the Kennedy era — retro cat-eyes, two-toned lids, and all. Celebrities like Lucy Boynton, Selena Gomez, and Sophie Turner are already on board.
"'60s makeup" has been trending on Pinterest, according to numbers shared by the brand with TZR. New data confirms that the number of people who searched this term in 2019 increased by 59 percent from the year before and who was it doing the searching? 20-somethings, of course.
Millennials and Gen Zers are the ones showing a keen interest in the modish tendencies of baby boomers lately. And thanks to their social media savoir faire, floating eyeliner, voluminous bouffants, dramatic cat-eyes, and messy beehives have gone viral more than half a century after they were invented.
Scanning today's red carpets, one could be confused as to what era we're actually living in with all the influence from bygone decades, but one thing is certain: the '60s are reigning over them all. Celebrities who are rocking the trend, ahead.