White Tights Are Making a Comeback (And It's Pretty Chic Looking)
@mariehindkaer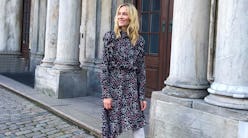 When you think of a winter uniform wardrobe staples like puffer coats, wool scarves, and black tights likely come to mind. These frigid months warrant a wardrobe filled to the brim with items that will prevent any and all frostbite potential. However, as history has proven, winter can be one of the most agitating seasons to express your personal style in solely due to the need to bundle up (a gal can only own so many different coats, after all). That's why small but meaningful swaps in your everyday repertoire can make the world of difference. A new patterned scarf, embellished beanie, printed coat, or if you're feeling particularly adventurous, statement hosiery, which this season means white tights.
White tights conjure images of mod Swinging Sixties icons like Twiggy and Penelope Tree, however, this vintage-looking accessory choice is experiencing a comeback, which begs the question: how do you make them feel modern? O. La Roche founder Olivia La Roche launched her vintage collection with the aim of recontextualizing these types of classic finds for the modern eye. "Think of white tights as starting your bold makeup look with full coverage foundation or putting gesso on the canvas before painting," she explains. "Layer bright or dark colors and strappy heels or Mary Janes over white tights to create contrast in an outfit."
If solid, opaque white tights feel like a stretch for you there are still options. "All white is too risky for me. I'm very clumsy and will probably get a stain before even setting foot outside the house," Fashion Writer and Consultant Stephanie Broek quips. "Printed versions are also a good option if all white feels a bit too much."
Continue for more ways to wear white tights this winter and if you've yet to add this bold accessory to your closet, shop your favorite pair to get going on this playful hosiery trend.
Weather permitting, style your white tights with a pair of tailored shorts and a smart jacket. For accessories, try an of-the-moment hair clip and a pair of strappy sandals.
Balance out the sweetness of white tights and a pastel matching set with a pair of chunky sneakers and architectural earrings.
The cowboy boots trend is still going strong, why not test drive the look with a pair of white tights and prairie dress all styled together? As seen above, it's a thoroughly successful approach.
Let your bold colors shine with a pair of white tights and boots; black hosiery just simply wouldn't have the same effect.
If sparkle speaks to you, search for a pair of white hosiery that features an interesting embellishment, like sequins or a repeating motif.
If you're not sure which colors to wear with your newly-found white tights, start with a powdery array of pastels.
Consider this ensemble for your next party. A bright sweater tucked into a leather mini skirt finished off with a pair of white tights and strappy sandals. Just add a cool trench coat and you're out the door.