The Perfect Wine Pairings For Your Holiday Meals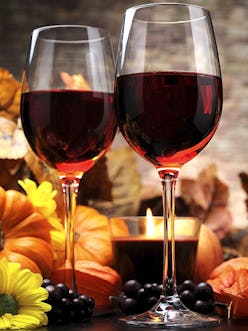 When it comes to holiday dinner parties, everyone knows what you're drinking is basically as important as what you're eating. Whether you're looking to smooth over some awkward in-law interactions, or want to take your holiday wine pairings to the next level, we have selected all the wines to pair with every aspect of your meal, from appetizers to desert. Get ready to klink some glasses!
Cheers!
Welcome Drink: Vertice Espumante Rosé
Starting your guests off with some bubbly is the perfect way to get everyone in the spirit of celebration and keeps you off cocktail mixing duty. Forgo the expected and go with a conversation starter by choosing a bottle of something a little more unique. We love the super elegant, sparkling rosé from Vertice, a winery from Portugal's Alto Douro region that produces premium quality Portuguese sparkling wines in the traditional method. As some of the newest trending wines of the moment, Portuguese wines are the perfect picks to impress your wine snob friends.
Appetizers: Lieu Dit Sauvignon Blanc
If you're setting out some small bites like a cheese plate, charcuterie or array of dips and crackers to keep you guests hunger at bay while you prepare the rest of the meal, a crisp white wine with citrus notes is the perfect pairing to start off the night. Try the Santa Ynez, California based Lieu Dit in their refreshing Sauvignon Blanc. Your guests won't feel too weighed down by the time you're ready to have everyone take their spots at the table.
Turkey: Kistler Chardonnay
Opting for turkey or chicken for your main course? When it comes to a wine to pair with it, it's appropriate to bring out the big guns. Traditionally pairing well with chardonnay, we like to keep the traditional going by picking up a bottle from one of Sonoma Valley's biggest names in Chardonnay—the prestigious Kistler Winery. Going with something a bit more reputable, will satisfy the wine drinkers at your dinner who are more about the recognizable in high-end wines than the fringe.
Pork: Hanzell Pinot Noir
The medium body and fruity taste of a pinot noir is the perfect wine to pair with a nice holiday ham or tenderloin. We're all about Hanzell Vineyard's unparalleled pinot noir, made from the oldest existing pinot noir vines in North America. A hybrid of the two styles, this flawless wine is the kind that appeases the lovers of old world style pinot and new world style pinot alike.
Dessert: Laurent-Perrier Grand Siècle
To stay safe, and end on high note, we like to cheers to our friends and family with a nice bottle of the wine that pairs well with everything: champagne. We love celebrating with the über delicious, complex and well-structured Laurent-Perrier Grand Siecle. The famed champagne House's prestige cuvée, Grand Siècle means "Grand Century" and its elegant bottle harkens back to a 17th century style. It also has special packaging for the holidays and comes with 2 glasses making it a perfect gift for the host.