This Is Why Adut Akech's Skin Is So Perfect
Brook Mitchell/Getty Images Entertainment/Getty Images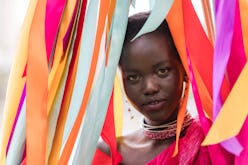 There aren't many 19-year-olds who can text Naomi Campbell for career advice, or serve as a muse for Pierpaolo Piccioli and Pat McGrath, amongst others. Of course, Adut Akech, the face of Valentino's new Born in Roma fragrance collection, isn't your average teenager — and for that, I'm grateful. And even though I might be nearly a decade older, there are still plenty of gems that I picked up during our 20-minute conversation in New York City — including Akech's makeup routine... one that's far simpler than you'd think.
"At one point, I was really good at doing makeup and I wore it every day, but things change," she tells me during our Oct. 24 chat. Instead, she uses her routine to invest in her skin — and in herself, especially in moments where the fashion world feels overwhelming. Akech is very candid about her journey with mental health, and notes that her favorite way to release is writing and spending time with family. "It doesn't matter who you are," she reflects. "It does not matter how famous you are, or how rich you are. We're all human beings at the end of the day, and we all have our struggles. Many people will never understand what you're going through, so I decided to be open about what I am. At least one person is going to understand what I'm saying."
And she can certainly count me as one of them. Ahead, read more of Akech's musings on beauty, her skincare ritual, being vulnerable on social media, and where she sees herself in 10 years. Because if she's accomplished this much at 19, then prepare for 2029 to be all about Akech.
On The Feeling Behind Wearing Fragrance
"Whenever I wear Born in Roma, which is basically every day, it just puts me in this mood," Akech says of the lush amalgam of blackcurrant, jasmine, and vanilla. "Sweet perfumes just make me feel like I'm a sweet person. I love smelling good, and this one lasts all day —but it's not overwhelming. And with the changing weather, fragrances like this are needed to boost your mood. I know for me, I can't leave my house when it's not sunny. I don't want to talk to people. I don't have any energy. I just don't want to. This morning I woke up and the sun was out, I got dressed, I sprayed my perfume and I was happy."
On Her Skin Secrets
"I have very sensitive skin, so it took me a long time to figure it out," she admits. Part of that equation? Standing appointments with Dr. Barbara Sturm, MD. "What's working for me is Dr. Barbara Sturm, MD's Darker Skin Tones range. She has these amazing Anti-Pollution Drops, and I never leave the house without applying them. I feel like when it comes to the streets of New York City, you feel the air. But with the drops, I come back and my skin is how I left with it."
The drops are just one component of Akech's very minimal routine (because good genes play a big part in it, too, clearly). "I only use like three things, and it's all Dr. Sturm: the Cleanser, which I can't live without, because I can never sleep without washing my face whether I'm wearing makeup or not. When you have sensitive skin, you don't have the luxury of just neglecting it. Then I use the Face Cream, adding the Eye Cream every now and then when I feel like I need it. Lastly, I use the Hyaluronic Serum every morning and every night, and that's it. Less is more."
And for those long flights between New York City and her hometown of Australia, there's one added product that Akech just can't live without. "I always have a mist with me. I use the Mario Badescu one. It's essential to travel."
On Minimalist Makeup
"I'm all about the no-makeup makeup look, honey," Akech tells me — though it took a whole for her to get there. "I used to use L'Oréal True Match and Maybelline Fit Me, but then I started learning about undertones and things like that and I was like, 'Why didn't anybody tell me I was red or ashy?'"
And just like her skincare routine, her daily makeup regimen also includes less than five items. "Right now, I'm using the Too Faced Born This Way Foundation. Anything that I put on my skin usually reacts, and that's one of the few foundations that hasn't broken me out. I use the NARS Creamy Radiant concealer on the days that I feel like I look dead. Add lip balm, and that's it."
But with a schedule that almost always requires tons of makeup, and hours in application time, Akech admits that it's made it challenging to keep her skin in check. "It's a lot of work, you know? Because I have to work extra hard to make sure I keep my skin in good shape. It's a fight, it's a struggle, and I feel like I'm always fighting with makeup artists."
Hands down, though, there's one product that will always have her heart: "The deepest shade in Pat McGrath's foundation range that was made just for me. I was the inspiration behind Deep 36 in particular."
On "Mama Naomi"
"Being raised in Australia, I didn't see myself represented in beauty or fashion often, so that was a little bit hard, because you want to have something bigger to look forward to," she says. "I wanted nothing more than women that looked like me to give me hope, and that's when people like Naomi came in. When I first moved to New York City, she embraced me with open arms. She'd have me over to her apartment and we'd have lunch or dinner before I knew anyone in the city, she was the first family member I had here.
"One of the biggest lessons she's taught me is to always stay true to yourself, and I've seen that she has been the same person from when she started to today. Some people are going to like you, and others won't but it's not your business to worry or to care what people think."
On Mental Health
In January 2019, Akech took to Instagram to shed light on her journey with depression and anxiety. "It was something I had been dealing with for a long time, but was never vocal about," she notes. "But my thing was, you have to talk about it to help you get through it, and that took me a long time to accept and understand."
She says the reactions were mixed with both support and shock, both of which she expected. "Yes, I'm a supermodel, yes I'm well-known, but I'm human and at the end of the day what I do doesn't make me exempt from struggles with feelings and emotions."
And in her trials and tribulations, she relies heavily on her relationship with her family to get her through it. "I always talk to my mom and my sister whenever I'm feeling overwhelmed and things like that. And when I feel like it's getting too much I go to Australia, I just need some time off. Being around family is really the best medicine for me."
She's also thankful for a team that she can openly express her emotions to, allowing her to take a break when she feels fit. "I feel like a lot of girls in the fashion industry have this debilitating fear of taking off work, but you have to listen to your body and you have to put your health first. It's your health over everything and anything, and my team gets that."
On Her 10-Year Plan
"I'd love to have a family, so hopefully I have one or two kids. I want to have a modeling agency in South Sudan, because there are so many girls there who just don't have the opportunity. I would love to have a school and a hospital there, too, and I'd love to have my own book.
"I see myself still in fashion, but I don't know if it'll be runway modeling. Even if it's a different career path, I've learned to be open to finding new passions. I'm really trying to get into acting, so hopefully in 10 years time, I'm in a movie and it's great! It's hard to predict, but there are so many goals that I'm trying to achieve."