Here's How Colico Turned Fishing Byproduct Into Luxury Leather For Its Sustainable Footwear
Taylor + Thomas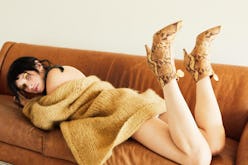 If you've been keeping a tab on all areas of the fashion industry lately, chances are you've heard of the slow fashion movement. The term "slow fashion" — which typically refers to the ethical approach brands take when producing their clothes — has become a common one in the style landscape, especially as the trend of sustainable fashion continues to rise. This comes as no surprise, considering the environmental impact fashion, particularly fast fashion, has had throughout the years. Luckily, the top slow fashion brands are paving the way for a more eco-friendly future in fashion. Don't worry — your closet will get a positive impact, too.
For those of you who are just beginning to turn their closets over with more slow fashion pieces, the perfect place to start is with timeless and elevated wardrobe staples, like a pair of essential heels. As a key staple in anyone's closet, a pair of shoes like Coclico's $395 Wumo Heel — which features leather made from the Icelandic fishing industry's byproduct — will be one of the easiest ways to incorporate slow, sustainable fashion into your everyday ensembles. And if heels aren't really your thing, the brand's $365 Dall Flat will be perfect for you.
If you want to add a second luxury shoe label to your list of slow fashion brands — and want one that's vegan — go for Taylor + Thomas. The Los Angeles-based shoe brand takes a thoughtful approach to every aspect of its products, from the materials used in the shoes and soles to the packaging. Wear the brand's latest heel, the $425 Brigitte, to your next fall wedding and add a chic touch to your ensemble.
Of course, you're going to need some pieces to wear with each of these shoes. In which case, OhSevenDays creates effortlessly elegant staples using deadstock fabric, contributing to the circular fashion movement. With timeless pieces like The Friday Billow, $135 — a reversible blouse that can be worn for nearly every occasion — the brand is also promoting its customers to shop less and wear more.
Another brand that sources deadstock fabrics for its clothes is Dame. The Southern California label creates easy staples for your daily life, ranging from easy linen jumpsuits to relaxed blazers like its $195 Everyday Blazer. Plus, it also furthers its mission for sustainable fashion by curating and selling vintage pieces.
Ready to add more slow fashion pieces to your closet? Scroll down to shop these four brands below.