OhSevenDays' Latest Collection Is Designed To Infiltrate Your Capsule Wardrobe
Courtesy of OhSevenDays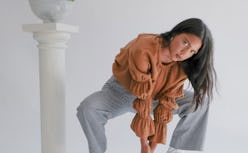 For the minimalist dresser, it's easy to curate a wardrobe filled with timeless neutral hues like cream, beige, camel, white, and others — especially during the fall season, which typically trades in the bright and vibrant summer colors for subtler tones instead. And if you happen to be in the category of fashion lovers who consider themselves color averse, then you already know it takes the perfect shade to add a non-neutral into your wardrobe. However, OhSevenDays' Fall 2019 collection might just have you reconsidering the rainbow. And don't worry — if you're just beginning to bring the spectrum back into your ensembles, this collection will help you ease right in.
OhSevenDays may have launched in 2015, but the slow fashion brand is only getting started. According to the label's About Page, OhSevenDays uses deadstock fabrics to create its pieces with "ethical beginnings and sustainable endings." Plus, in celebration of its latest collection launch, the brand has teamed up with TreeSisters, and for each transaction that OhSevenDays makes in the next month, the non-profit organization will plant five trees.
Maintaining its mission to create pieces meant for every day of the week, OhSevenDays' latest collection aims to infiltrate your wardrobe. And after just one glance through the collection, you'll immediately see that each item is set to do exactly that. Better yet, the collection comes in an array of neutrals as well as sage green, muted burgundy, and warm topaz. In other words, it's a minimalist's dream color scheme.
The Fall 2019 collection includes everything from classic button-down shirts and sleek blazers to flowing jumpsuits and dresses. And while the collection was designed for fall, there's no doubt you'll be able to wear each piece for the rest of the year, too.
You may have already built up a capsule wardrobe for the season, but just in case you want to supplement it with a few more pieces, opt for the Monday Marie, $135. Wear it with a sleek pencil skirt or the $140 Tuesday High Kick for an easy everyday ensemble.
Want to wear a classic wrap dress to wear to the office? The $190 Sunday Bishop will be a staple in your closet for years. Style this timeless piece with a pair of strappy heels for a fall wedding or with boots for a weekend brunch. Of course, if you're not a dress person you can always go for the $180 Wednesday Onesie instead.
Scroll down to see more pieces from OhSevenDays' Fall 2019 collection below.