This Super-Chic Color Trend Is Back For 2020 & Mango's Newest Arrivals Are Proof
Mango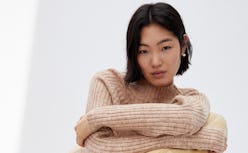 The holidays are officially over, launching everyone into a new year (and decade, for that matter) with 2019 squarely in the past. And with 12 months of uncharted territory to look forward to, it marks the beginning of a clean slate. And you know what that means: a new set of fashion trends to fill your closet. That said, based on the first major 2020 winter color trend to hit Mango's latest arrivals, the idea of making a fresh start in the New Year is taking on a completely different meaning for your wardrobe.
In its latest drop of new arrivals, Mango is wiping the palette clean. Rather than starting the year off with a burst of vibrant colors and bold styles, the fashion retailer is tapping into the continued trend of chic minimalism, opting for neutrals instead. And with a handful of stylish pieces in shades of cream, camel, brown, and black, there's no doubt that Mango's latest pieces will fit seamlessly into the rest of your closet.
This lack-of-color trend's return for 2020 comes as no surprise. At the beginning of 2019 — the same year monochromatic dressing and Marie Kondo's movement of tidying up rose to the surface — fashion lovers everywhere discovered the joy of paring down their closets and building their wardrobes with timeless staples. As a result, many were incorporating a new collection of versatile, neutral pieces into their ensembles for any and every occasion.
It's been one year since the notion of creating classic, minimalist ensembles first came into the limelight. And if Mango's newest arrivals are any indication, the trend is coming back for a second go-around.
When it comes to wearing neutral basics, there's truly no right or wrong way to style them. However, if you're looking for an easy (and comfortable) ensemble that'll look put-together in a matter of seconds, wear the $59.99 Ribbed Knit Sweater with the matching Ribbed Knit Trousers, also $59.99. Feel like making a knitwear statement? Add the $69.99 Ribbed Cardigan into the mix, too.
For those of you who are looking to add more pieces into your work wardrobe, start with the $79.99 Buttoned Dress or the $99.99 Printed Shirt Dress. Style them with the $229.99 Chain Detail Leather Boot to add a tough edge to your look or wear a simple pair of loafers instead.
Of course, you'll need something to keep you warm for the rest of the winter season. In which case, get yourself the $129.99 Lapels Wool Coat, which will be in your closet for years. Or, if you love the puffer coat trend, opt for the Funnel Neck Anorak, $149.99.
Scroll down to shop TZR's picks from Mango's newest arrivals below.