The 2020 Met Gala Theme Is Inspired By This Iconic Film From The '90s
ANGELA WEISS/AFP/Getty Images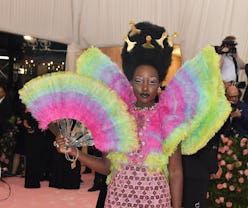 Although the biggest night in fashion is more than six months away, excitement is already building as the 2020 Met Gala theme has just been announced: "About Time: Fashion and Duration." The subject couldn't be more fitting considering the beloved New York Institute is gearing up to celebrate its 150th anniversary. What better way to toast the occasion than by looking back on fashion over the last century and a half and showcasing its fragmented history?
Among the co-chairs for the gala on May 4, are Emma Stone, Hamilton's Lin-Manuel Miranda, and Meryl Streep. Louis Vuitton's Creative Director, Nicolas Ghesquière, is also a co-chair for the event, which is more than appropriate considering the house is one of its biggest contributors.
This year it's all about reimagining the industry's past and its disruptive timeline. And according to Vogue, The Wendy Yu Curator in Charge of the Costume Institute, Andrew Bolton, is using this theme as an opportunity to challenge the way one thinks about fashion history. Considering the star-studded guest list and extravagant looks that habitually grace the event each year, it's safe to assume 2020's A-list attendees will emphatically accept the challenge.
Taking classic references into account, the theme is partly inspired by Sally Potter's film from 1992 — Orlando, which stems from Virginia Woolf's novel Orlando: A Biography that focused on time travel. Specifically, the idea for the exhibition itself originates from an iconic scene from the movie adaptation, in which Tilda Swinton's character's outfits change according to the time period.
As for the museum exhibit, which opens to the public on May 7, 2020, it will consist of 160-pieces that will be divided into two sections, telling the story of where the past and present meet. The designs included will range from as early as 1870 to current day, so expect to see everything from Chanel looks from the 1920s to Alexander McQueen's scandalous "bumster" design, circa 1995.
Assuming those in attendance will go above and beyond when creating their own take on the theme, what's most exciting is the influence this will have on the evening's looks. In order to move forward, it's important to examine what was done in the past and what better time to think about the future of the industry then at the turn of a new decade?