The Best Shoes At The Golden Globes Are Just As Luxe As The Gowns
Jordan Strauss/Invision/AP/Shutterstock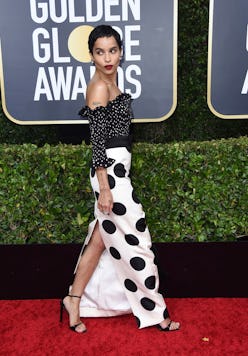 Accessories have the power to instantly transform your whole look. This is especially true when it comes to awards show season. Of course the gowns are always incredibly stunning, but the pieces they're styled with are just as noteworthy. The proof is in the best shoes of the 77th annual Golden Globes and they deserve your undivided attention. And while there's no shortage of heels to droll over — celebrities gathered at the Beverly Hilton in Los Angeles putting their best foot forward, quite literally.
This year's awards are full of some pretty spectacular nominations — from Saoirse Ronan's performance in Little Women to Scarlett Johansson's astonishing role in Marriage Story. And with movies this buzz-worthy, these A-listers are sure to bring their best fashion moments to the annual event. Case in point: Zoe Kravitz's sky-high black stilettos that she graceful strolled down the red carpet in. And you'd be hard-pressed to miss Lucy Boynton's eye-catching glitzy shoes. You'll probably want to purchase them yourself for any upcoming wedding or event you have marked on your calendar.
Since you won't be able to catch a glimpse of all the shoes at the Globes, below see every pair TZR did spot — and that you won't want to miss.
Joey King in an Iris Van Herpen dress and Jimmy Choo heels.
Kate McKinnon in a black suit and matching heels.
Billy Porter in Baja East and Jimmy Choo Boots.
Winnie Harlow in a high-slit Laquan Smith fringe dress and Louboutin pumps.
Tiffany Haddish in a bright pink Galia Lahav gown and metallic heels.
Zanna Roberts Rassi in an Oscar de la Renta dress and Femme heels.
Lucy Boynton in a metallic silver pleated dress and coordinating heels.
Nicole Kidman in a vivid red gown and bow tied heels.
Zoe Kravitz in a Saint Laurent gown and skinny black stilettos.
Shailene Woodley in a Balmain gown and black heels.
Saoirse Ronan paired her flashy CELINE by Hedi Slimane dress to her sleek heels.
Kerry Washington looking ultra-glam in a matching Altuzarra blazer and skirt finished off by embellished Jimmy Choo heels.
Isla Fisher in a Monique Lhuillier off-the-shoulder gown and white platform heels.
Renée Zellweger pairs her high-slit gown to her baby blue pointed heels.