All The 2019 Golden Globes Shoes You'll Be Lusting Over Well After The Show Ends
Jon Kopaloff/Getty Images Entertainment/Getty Images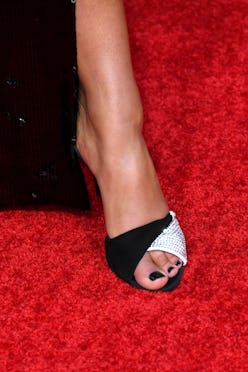 If the only thing you pay attention to at awards shows are the dresses, you're seriously missing out. Yes, they're obviously stunning, but the shoes are often just as (if not more) even more beautiful — it's just that they're often missed thanks to the camera angles and tons of billowing fabric. Which is why it's so important to highlight all the best Golden Globes shoes for the world to appreciate and lust over. After all, just as much work went into designing, creating, and choosing them — meaning they deserve their own moment in the spotlight, too.
As always, the list of nominees is incredibly exciting, which builds the anticipation of the outfits (and accessories) that much more. And naturally, the stars — and their head-to-toe looks — did not disappoint. As the first looks of the evening rolled in, it was clear that celebs were not here to play, and their stunning heels matched the glamour and shine of their gorgeous looks.
If you happened to miss a pair of shoes or you just want to take a second (or third, or fourth) look at the footwear choices of the stars for the night, keep scrolling for all the 2019 Golden Globes shoes worth lusting over well after the show is over.
Joanna Newsom
In a lace dress and simple nude heels.
Laura Harrier
In a long gown and black and silver slingbacks.
Lucy Boynton
In a golden gown and shining heels to match her dress.
Jeannie Mai
In a split-front green gown and sky-high black and gold heels.
Caitriona Balfe
In a strapless dress and pretty velvet pumps.
Octavia Spencer
In a '50s-inspired dress and low-heeled sandals.
Chrissy Metz
In a bold red dress and pretty bejeweled short heels.
Catherine Zeta-Jones
In an emerald-green, one-shoulder gown and sleek satin heels.
Emily Blunt
In a lace dress and matching neutral heels.
Julia Roberts
In sleek pants, a dress over tops, and the most classic black heels.
Halle Berry
In a deep red dress by Zuhair Murad and velvet matching heels.
Elisabeth Moss
In the chicest blazer dress and minimal velvet pumps.
Anne Hathaway
In a leopard-print gown by Elie Saab and asymmetrical jeweled heels.
Nicole Kidman
In a glitzy maroon dress and elegant black slingbacks.
Gemma Chan
In a flowing teal gown and matching blue pumps.