The Golden Globes Beauty Trend TZR Editors Can't Stop Talking About
Steve Granitz/WireImage/Getty Images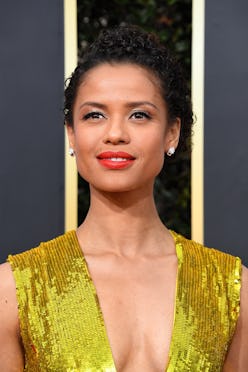 With the holiday season and all its glitzy glory well behind everyone, one must find fresh sources of beauty inspiration for the new year and the warmer season ahead. Luckily, hot on the heels of the winter holidays is the 77th Golden Globe Awards, which delivers glamorous beauty looks that, like the fashions, essentially forecasts the makeup and hair trends that will dominate this spring.
This is not lost on TZR's editors, who carefully combed the Golden Globes red carpet for the beauty moments they would happily emulate in the coming months. As it happens, there was no shortage of inspiration, as this year's attendees shined like never before. Between the sleek and sophisticated updos to the bold red lipstick trend that was clearly evident, the beauty looks at the Golden Globes were just as prominent as the sequin gowns and feathery ensembles.
One of the brightest stars of the evening came as a surprise to no one: Zoë Kravitz. The Big Little Lies actor's perfect pixie hair and cherry red lips made for the chicest combo. While this look is an obvious red carpet win, its versatility makes it appropriate for just about any other occasion or setting you might encounter this year.
Also jumping on the short hair train that was clearly running through the red carpet was Kerry Washington. The actor wore her cropped cut soft and rounded at the shoulders for a simple yet elegant result that read very Old Hollywood and will surely be talked about for the rest of the week.
In need of some more beauty inspiration for the new year? Ahead, TZR's editors sound off on their fave Golden Globes looks to help you hit the ground running.
Zoë Kravitz
"Zoë Kravitz can do no wrong in my eyes, and she didn't disappoint tonight. I loved how bold, yet simple her look was; the combination of the deep red lip and pixie cut was so elegant and perfect." — Anna Buckman, Shopping News Editor
Kerry Washington
"I love blowing my natural curls out every now and then, but get a little bit discouraged once my straight strands puff up a bit. Kerry Washington's bob, styled by Takisha Sturdivant-Drew, wasn't stick-straight — but that's the beauty of it. The high shine and movement in the silhouette makes the look feel approachable. I'll definitely be taking a picture of this to my stylist for my next appointment!" — Khalea Underwood, Beauty Editor
Zoey Deutch
"My favorite part of Zoey Deutch's makeup — which focuses on bold brows and dewy skin — is that it feels doable for any occasion. Whether it's for one of Hollywood's biggest award shows or a casual night out, this is a effortless, versatile look that anyone can wear." — Dale Chong, Shopping News Writer
Gugu Mbatha-Raw
"Gugu Mbatha-Raw has always been a red carpet favorite of mine, and her red lipstick and curly faux-bob at the Golden Globes sealed the deal. Even better: Hairstylist Matt Fugate exclusively used Dove products on her." — Lauren Caruso, Site Director
Lucy Boynton
"She never disappoints when it comes to a jaw-dropping beauty look. I can't get over her silver sequin eyes matching her stunning gown." — Kelsey Stewart, Editorial Assistant
Scarlett Johansson
"Scarlett Johansson's luminescent beauty look is my idea of "no make-up makeup" — dewy, bright, with a soft-pink nude lip; Its juxtaposition to her classic yet glamorous red gown was sheer perfection." — Shelby Hyde, Shopping News Editor
Margaret Qualley
"Margaret Qualley's understated look was the ideal no-makeup look. A bit of blush and an ethereal half-up hairstyle. Perfection." — Aemilia Madden, Senior Fashion Editor
Olivia Colman
"After a recent haircut left me with a surprisingly short bob, I've become re-invested in the art of styling mega-short hair. Colman's tousled look is equal parts Mia Farrow cool and red-carpet glamour (especially when paired with those sleeves)." — Madge Maril, Shopping News Writer
Margot Robbie
"I'm a huge fan of pastel shadow right now, so Margot Robbie's makeup definitely delivered some spring beauty inspo." — Angela Melero, Deputy Editor