Kendall Jenner's Met Gala After-Party Outfit Makes A Case For Spring Suiting
Erik Pendzich/Shutterstock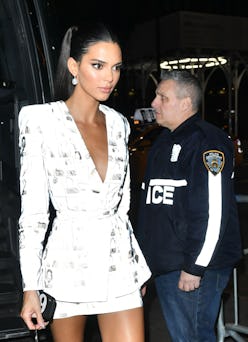 Arguably the biggest fashion event of the year, the Met Gala once again did not disappoint. Between Lady Gaga's theatrical outfit changes on the pink carpet and Billy Porter's dramatic winged ensemble, this year's looks served up enough fashion fodder to keep us talking for weeks, if not months. And it wasn't just the main event that delivered inspiration. While often under-appreciated, this year's Met Gala after-party looks included some serious iconic moments as well.
Typically, after-parties serve as a space for celebrities to let their hair down and shed their dramatic gowns for less intense ensembles. And while that definitely was still the case this time around, that didn't stop the post-Met ensembles from being truly show-stopping. Indeed, these second acts proved quite impactful, featuring an array of of-the-moment looks and silhouettes that we'll likely see repeated throughout the season. After-party looks, while more toned down, are often more approachable and easily emulated in real life ... for the most part.
The exception to this latter statement was, of course, Kylie Jenner, who switched her head-to-toe lavender look for a sea-foam green one. From her bright blue-green wig to her fitted sheer netted ensemble, mermaid vibes were served with gusto. Not far behind Jenner's look was Kim Kardashian West, who effortlessly claimed the title of belle of the post-ball (which she co-hosted alongside her famous family as well as Serena Williams, La La Anthony, and Trevor Noah). The reality star wore a plunging blue mini dress and matching ankle boots to the 6th Annual Gala After-Party, topping things off (literally) with a silver wig headpiece with pointed, angular bangs.
Not to be outdone was the always stunning Winnie Harlow, who wore a sheer leopard catsuit with matching waste corset and thigh-high boots which made for the ultimate party ensemble. Her take on an always-relevant trend felt bold, fresh, and utterly Harlow.
On the more wearable front was Hailey Bieber who went fully casual in metallic silk shorts and an oversized white button shirt and PVC heels. Also opting for a softer look, Kendall Jenner changed out of her orange feathered gown and into a white skirt suit with black-and-white-photos imprinted on it that felt chic but utterly cool, which also happens to be Jenner's M.O.
Ready for another Met Gala fix? Feast your eyes on the best after-party from both soireés that serve as a second wave of Gala goodness.
Kendall Jenner
Lupita Nyong'o
Bella Hadid
Tracee Ellis Ross
Joan Smalls
Kim Kardashian West
Winnie Harlow
Kylie Jenner
La La Anthony
Hailey Baldwin