Kim Kardashian Created A Line Of Sunglasses, And They're All Under $100
Christopher Polk/Getty Images Entertainment/Getty Images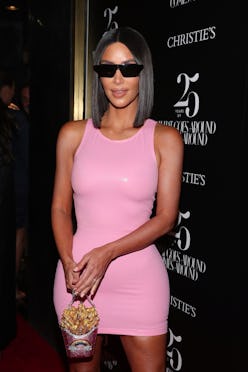 No one can deny the allure and magnetism of the Kardashian-Jenner family. Whether it involves makeup or denim, it seems everything they touch turns to gold (read: It sells out in minutes). So it's no surprise that Kim Kardashian's latest sunglasses collaboration with emerging eyewear brand Carolina Lemke is poised for success. And while the collection's trendy (and slightly over-the-top) styles are the stuff of Instagram dreams, it's the price point that will really hit home with, well, everyone.
Fact: Kardashian's latest installment of shades won't cost you more than $90 a pop. But, don't let the price tag fool you: "The quality is so amazing," said Kardashian during a recent sit-down with The Zoe Report. For those not in the know, Carolina Lemke is an international eyewear company inspired by the "progressive art, music, and fashion scenes of Berlin" (according to the brand's site). This month marks the label's entry into the U.S. market.
For Kardashian — who also happens to be a partner in the brand — the label's newness and trust in her vision were major selling points. "People always ask me, 'why Carolina Lemke?' The control that they let me have and the excitement of a new brand, knowing that there's no preconceived ideas of what the customer and brand is like and being able to create that, is really cool."
Control, indeed. The reality star explains that the team at Carolina Lemke gave her full reign on everything from the collection's digital campaign (which features Kardashian among several women in her likeness donning the new shades) to the sunglasses themselves. "The lenses, the shapes, the materials, everything," she explains. This is certainly evident in the collab's various styles, which feature oversized shield silhouettes, narrow '90s-inspired rounded and rectangular shades, and squared wraparound lenses that read very futuristic.
The colors and accents incorporated are also something to behold, as Kardashian clearly didn't shy away from striking details in the frames and lenses. "I wanted stuff that was accessible and in fresh, newer colors like purple and neon green," she explains. "But I also threw in silvers and golds and the more neutral colors that I like to wear, as well."
The beauty and fashion guru explains that, when it comes to accessories, sunglasses have always been near and dear to her heart, influencing her look as far back as her teenage years. "No matter what phase you're in, you cherish that one pair or two" she explains. "If you wanna just wake up and leave the house with no makeup on, just throw on your sunglasses and you're good. They can be worn anytime, anywhere."
Apart from sunglasses, another accessory Kardashian can't seem to part from is a bit more unexpected and definitely a throwback: chokers. "I have a lot of my chokers from the '90s," she says. "I found a video of myself from when I was about 12 years old. Khloé [Kardashian] was recording me and I was wearing the coolest velvet choker. I loved it."
If your heart is set more on sunglasses than chokers, you're in luck. Kardashian's first installment of shades with Carolina Lemke is officially available on the brand's site. And because of the beyond reasonable price point, you probably won't feel an ounce of buyer's remorse. Shop the high-octane styles below before they sell out — in true Kardashian fashion.