This Year's Fragrance Foundation Awards Winners Were All Over The Board
Sephora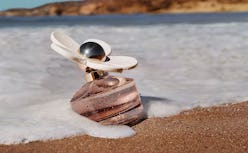 While many beauty lovers champion the idea of a signature scent, the fragrance you wear each day can change depending on your mood. In other words, it's worth having a collection of scents to choose from when you want to give yourself an added spritz. However, like other areas of the beauty realm, it can be hard to decide which ones are for you when you aren't sure where to start. Luckily, The 2019 Fragrance Foundation Awards winners have been announced, and these help narrow down the ones worth considering.
Shopping for perfume can be, well, overwhelming. It's a task that requires an in-person experience to make a final decision. Of course, there's also the list of the top, middle, and base notes you're left to decipher. And for some brands, the fragrance you choose might cost a pretty penny. However, the winners of The Fragrance Foundation 2019 Awards are a mix of affordable scents and luxury perfumes, proving that you can get a quality fragrance at any price.
For those who are looking to invest in a fragrance that smells as good as it'll look on top of your beauty counter, get yourself Lost Cherry by Tom Ford. The $320 Women's Luxury Fragrance of the Year winner features notes of black cherry accord, bitter almond, Griotte syrup, Peru balsam, and more. Warm and sultry, this fragrance was practically meant to go over your look for a night out.
In the more affordable price range, Cloud by Ariana Grande, $60, won the Women's Popular Fragrance of the Year. The fresh scent features notes of lavender, pear, bergamot, coconut, praline, vanilla orchid, and cashmere, which is perfect for everyday occasions. Jo Malone London' s Honeysuckle & Davana Cologne also received the Fragrance of the Year award for Women's Prestige. The $136 perfume is a floral fragrance with notes of davana, honeysuckle, and moss, making it an essential summer scent.
Just in case you want a scent that has been loved by the beauty-obsessed everywhere, look to Marc Jacobs' Daisy Love, $84. The popular floral perfume won the award for Consumer's Choice in the Women's Prestige category and features notes of crystallized cloudberries, daisy tree petals, cashmere musks, and driftwood.
Scroll down to see these award-winning perfumes below, and then head over to The Fragrance Foundation's website to see the full list of this year's winners.
Fragrance of the Year, Women's Luxury
Fragrance of the Year, Women's Popular
Fragrance of the Year, Women's Prestige
Consumer Choice, Women's Prestige