Angela Bassett Looked So Radiant At The 2019 Black Girls Rock Awards
Astrid Stawiarz/Getty Images Entertainment/Getty Images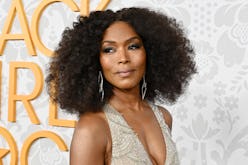 On Sun., women and girls of color came out for the 2019 Black Girls Rock Awards, and the annual ceremony was chock-full of stunning fashion and beauty moments, including a few head-turning outfit changes throughout the night. Leading ladies in a range of industries hit the red carpet, including Golden Globe winner and ageless beauty, Angela Bassett, who looked radiant in an ornate silver jumpsuit with her voluminous natural hair on full display.
Other heavy-hitters including Erykah Badu and Ciara hit the red carpet, serving an array of enchanting eveningwear looks at the star-studded affair. Founded by Beverly Bond in 2006, the awards honor and promote Black women in entertainment, medicine, entrepreneurship, and beyond — and include performances by leading WOC artists and entertainers. Over the years, female icons and philanthropists from Michelle Obama to Naomi Campbell have been in attendance, cementing the event as a night full of moments to inspire, motivate, and uplift underrepresented women and girls.
From upbeat performances to heartfelt speeches, the momentous occasion delivered on all fronts. Looks were served, edges were laid, and The Zoe Report has a few favorites that deserve a double take. Ahead, the most jaw-dropping appearances at the 2019 Black Girls Rock Awards.