The New Brand At Birchbox That's Quickly Rising To Cult Status
Courtesy of Birchbox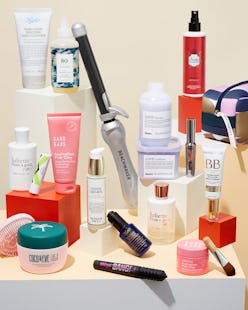 The best things in life deserve to be celebrated. Birthdays, anniversaries, major milestones — why not your favorite beauty products, too? That's the idea behind the Annual Birchbox Beauty Awards, which showcase and celebrate the subscription service-slash-e-comm site's most beloved beauty products in every single category, from holy-grail hair tools to the best new skin care to hit shelves. And now that 2019's official winners have been announced, it's time to compare the list to your own beauty collection — and stock up on some certifiably good products you may have been missing out on.
Birchbox is basically a one-stop-shop when it comes to all things beauty. But on top of that, it's also built up a pretty impressive community of beauty buffs dedicated to finding the best of the best (and patrons who dutifully share feedback via honest, helpful reviews).
So, when Birchbox's annual awards come back around on Feb. 21, dishing up the latest customer-picked favorites and industry frontrunners, you can rest assured that the results are real — and worthy of buying to reinforce your own beauty arsenal. Plus, every item on the award-wining list will be offered at 20 percent off with code AWARD, so you pretty much have nothing to prevent you from filling your shopping cart.
Wondering what made the cut this year? You actually may not be too surprised by many of the beauty superstars on the 2019 Birchbox Beauty Awards list, because many point to some of beauty's most significant trends.
Case in point, R+Co's ACID WASH ACV Cleansing Rinse, $32 at Birchbox and a near instant favorite after its October 2018 introduction to the site. "The 'skinifcation' of haircare is on the rise," Michaela Meier, Birchbox's Senior Merchant for Hair & Fragrance tells The Zoe Report exclusively. "We're seeing more customers thinking and approaching haircare similar to skincare. We're also seeing a surge of brands launching scalp specific products since last year."
Athleisure makeup — aka makeup that's meant to keep up with an active lifestyle — also saw a rise in popularity, and makes an appearance on this year's Birchbox Beauty Awards list. ARROW's BOOST Color Enhancing Lip Balm in Blush Hour, $15, is named the "Makeup Product I Can't Live Without", and with good reason. The just-tinted-enough hydrating balm holds over 32,000 glowing reviews on the site, and Meier tells TZR that it has been the top-selling lip product on Birchbox since launching in 2016.
Other standout superstars include Sunday Riley's ever-popular Good Genes Lactic Acid Treatment, $105, which is one of Birchbox's top-performing skincare products and completely worthy of the price tag, and the Insta-famous Sand & Sky Australian Pink Clay Flash Perfection Exfoliating Treatment, $42.90, named 2018's Best New Skincare Product despite being an entirely new brand introduced to Birchbox customers.
Keep scrolling to discover the entire list of winners for 2019's Birchbox Beauty Awards, and shop them ASAP to save 20 percent off on every last one of them.
The Lifetime Achievement Award
Makeup Product I Can't Live Without
Breakout Star
Birchbox Limited Edition Box or Kit of the Year
2018 Best New Skincare Product
2018 Best New Makeup Product
Worth The Splurge
Best Lash Lifesaver
Best Everyday Makeup Bag Essential
Hair Product I Can't Live Without
2018 Best New Hair Product
Holy Grail Hair Tool
Hair Washing Hero
Scent I Can't Stop Spritzing
2018 Best New Fragrance Product
Skincare Product I Can't Live Without
Best #SelfCareSunday Face Mask
Mighty Multitasker