Nutritionists Recommend This Healthy Cookbook For Anyone Looking To Improve Their Eating Habits ASAP
KucherAV/Shutterstock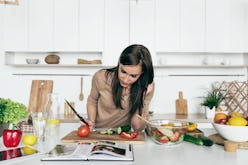 So you've vowed to ditch the regular takeout habit and start cooking healthy at home more often. First of all, kudos to you — with a busy schedule and the availability of not-so-good-for-you options literally at your fingertips, it's not always easy to make this a permanent lifestyle change. That said, some things can make it a whole lot easier. For example, with some of the best healthy cookbooks on the market, you'll already have an arsenal of wholesome recipes to choose from for those moments where it feels tempting to order in (again).
No matter if you're looking for inspiration to create healthy breakfasts, lunches, dinners, or even snacks, the right cookbook for you will keep you equipped not only with recipes you'll want to return to over and over again, but also basic knowledge of healthy eating in general — which you can apply during those times you're eating somewhere other than your own home. And while chef-approved texts can ensure a slew of tasty meals, those recommended by nutritionists and wellness experts have the edge when you want something a bit more focused on fare that's good for you (whether that means avoiding certain foods or including more of another).
To prove the point, three different experts have weighed in with their 14 favorite healthy cookbooks — just in time for your summer reading. Check them all out ahead, and snag the one that best suits your needs for nutritious — but delicious — dishes in your future.
Half Baked Harvest Cookbook: Recipes from My Barn in the Mountains by Tieghan Gerard
"I love following along with @halfbakedharvest on Instagram, and this new cookbook combines her delicious recipes and stunning photography in the best way possible," says Cara Clark of Cara Clark Nutrition.
Danielle Walker's Eat What You Love: Everyday Comfort Food You Crave; Gluten-Free, Dairy-Free, and Paleo Recipes by Danielle Walker
"Danielle Walker is most well-known for her grain-free, dairy-free and Paleo recipes, and her newest cookbook has some must-try recipes," Clark says.
Healthyish: A Cookbook with Seriously Satisfying, Truly Simple, Good-For-You (but not too Good-For-You) Recipes for Real Life by Lindsay Maitland Hunt
"This cookbook should be a staple in your kitchen," states Clark. "The recipes are so good and combine real foods and delicious flavor."
the SALAD book by Cara Clark
"I created this cookbook with some of my favorite salad recipes," Clark explains. "Our salads have turned the pickiest of people into salad lovers."
Clean Slate: A Cookbook and Guide: Reset Your Health, Detox Your Body, and Feel Your Best by the editors of Martha Stewart Living
"I love this one because of its focusing on hitting the restart button without deprivation," offers Wellness Styled's Dana Kofsky. "It also can be motivating to get people to start a new way of eating with clean, unprocessed foods."
The First Mess Cookbook: Vibrant Plant-Based Recipes to Eat Well Through the Seasons by Laura Wright
"This is a go-to for plant-based cooking," shares Kofsky. "It's healthy, easy and showcases the beauty of plant-based foods that taste amazing!"
Food52 A New Way to Dinner: A Playbook of Recipes and Strategies for the Week Ahead by Amanda Hesser
Kofsky describes this cookbook as "a great way to learn how to prep food so that you have clean healthy food on hand for the busy on-the- go person."
Eating Purely: More Than 100 All-Natural, Organic, Gluten-Free Recipes for a Healthy Life by Elizabeth Stein
Even those who want to keep gluten in their diet will still find plenty of love about this healthy cookbook, according to Kofsky. "It's clean, fresh and has a beautiful way of making healthy food taste good," she says.
It's All Good by Gwyneth Paltrow
"Gwyneth Paltrow has a glow about her and with her cookbook, It's All Good she can show you how to create food that makes you glow from the inside out," offers Kofsky.
It's All Easy by Gwyneth Paltrow
Kofsky also recommends another book penned by the Goop creator. "It's All Easy features great recipe ides that are very quick and delicious for the busier lifestyles," she adds.
Go With Your Gut by Robyn Youkilis
"This cookbook focuses on digestive-health and gut-healing recipes (like fermented vegetables and good gut gummies), listening to your body and intuition — plus why they're all connected! Robyn encourages you to slow down so you can digest better (with tangible tips like chewing our food, deep breaths and hydration) plus support for tuning into what you're really craving and how to be more mindful around meals," explains Chelsea Gross of Nutrition With Chelsea. "In our extremely busy lives, slowing down and tuning in, couldn't be more important."
The Healing Kitchen by Alaena Haber and Sarah Ballantyne PhD
"My all-time favorite cookbook The Healing Kitchen is an AIP (autoimmune protocol) cookbook serving up nutrient-dense meals without any inflammatory ingredients," says Gross. "AIP is an extension of the paleo diet and avoids things like nightshade vegetables, nuts and seeds, and eggs, with the goal of methodically reintroducing those foods to learn what works for you and what doesn't. Regardless of your style of eating, these recipes will please everyone."
Body Love by Kelly LeVeque
"[Kelly's] book empowers you to take back control and find peace by balancing your blood sugar and reducing inflammation through real, whole, delicious foods," explains Gross. "The foundation of this book and the recipes is the Fab 4: protein, fat, fiber and greens. It's all about loose structure, dropping rules and obsession, and eating for satiety whether with your morning smoothie, lunch with co-workers, or family dinner."
Practical Paleo by Diane Sanfilippo
"The second edition of this book is truly-jam packed with everything you need to know about real food, managing health issues, and understanding the myths of the modern food industry (covering topics like wheat, dairy, fat and carbs)," Gross shares. "You will not only leave reading this book educated and empowered, but will also be cooking up a storm making nutrient-rich meals like mustard-glazed chicken thighs, six-minute salmon bowls, and fluffy banana pancakes."