The Laser Treatment Taylor Hill Uses Pre-Fashion Month — Plus More Beauty Secrets
Neilson Barnard/Getty Images Entertainment/Getty Images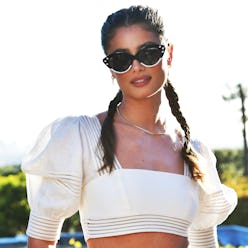 For someone who regularly walks shows like Anna Sui and Zimmermann, Taylor Hill has a very chill approach to beauty when she's not on the runway. "I like to keep it light, especially in New York where it can get really humid and muggy," the model tells TZR at a press event for Ralph Lauren's new fragrance on July 23. But Taylor Hill's beauty routine is one that she's picked up from the talented pros that she's worked with throughout her six-year career.
When she's not posing for the camera or flapping her wings for Victoria's Secret (she's the brand's youngest Angel!), you can find Hill, 23, working her magic as the face of Ralph Lauren's new Beyond Romance Fragrance. "It's special to me because it was shot in New York where I live and and where my boyfriend and I first met and grew our relationship," she says. In fact, she and longtime beau Michael Stephen Shank were the faces of the brand's signature Romance fragrance campaign earlier this year, giving fans a fresh dose of #relationshipgoals. But Hill feels the brand's newest launch, a warm floral with sweet, cheery hints of vanilla, has a bit more energy to it compared to the original that was born in 1998. "It reminds me of being in New York as a teenager, and seeing everything through rose-colored glasses," she reflects. "When everything just felt sweeter, and you didn't smell the garbage yet!"
Describing herself as spontaneous, Hill says the Beyond Romance perfume translates to all areas of her busy life: she uses it in between appointments and events because it's "refreshing," she says. And though there are no boundaries on where she would wear the fragrance, she recommends it for the occasions that are sure to make standout memories. "I really see this fragrance being used for date night or a girl's night out," Hill says. "You know, where you're experiencing something new — going to a new city, or seeing something you haven't before."
But before your adventures, getting Camera Roll-ready skincare and makeup is a must — so below, find Hill's summer skin and makeup routines, along with some pro-approved tips and tricks she's picked up along the way.
Skincare
Hill doesn't necessarily lean on a 10-step routine. "I keep skin pretty simple because I have pretty sensitive skin," Hill says. "I deal with so many makeup artists and different products every single day, so the most important thing for me is to make sure I wash my face every night — especially after a photo shoot, because the makeup is usually a bit heavier than I'm usually used to wearing," she says. Her quick and easy routine includes a vitamin E oil, which she combines with Lancôme's Advanced Génifique Youth Activating Serum [Editor's note: Hill is also a Global Ambassador for Lancôme]. "It's so light and fresh," she says.
Makeup
On her days off, Hill likes to keep her everyday makeup routine simple. "There's nothing worse than being sweaty and touching your face and having wet foundation on your hands," she says. Instead, she'll typically use a BB cream on top of sunscreen, a tinted lip balm, and Monsieur Big Mascara. For her nails, Hill leans toward neutral shades. "I love nudes. I can't wear a color because when I do, a day later I have to take it off because I hate it," Hill says. "So I usually stick to a beige. Essie makes really good ones."
Fashion Week Prep
When prepping for the shows, Hill tries to remain consistent with her skincare routine. "I'll use a face wash that's dermatologist-recommended for sensitive skin," she says. She also opts for the non-invasive Clear + Brilliant laser treatment, which prevents signs of aging diminishes pores, and treats fine lines according to the site. "It doesn't cause flare-ups and kills bad bacteria in my skin, so it can be clearing for acne," Hill says.
Tips & Tricks
Considering that Hill works with some of the most prestigious hair and makeup artists in the industry, it's no surprise that she takes silent notes along the way. "One makeup artist I know will heat up the eyelash curler with a hair dryer and then curl my eyelashes while it's still warm," Hill revelas. "They stick straight up and last a lot longer." And when her hair stylist Danielle Priano puts Hill's hair in a ponytail or in deep parts, she'll use a brown eyeshadow to fill in the baby hair spots to make the hair line more consistent and even. Genius!
Shop Beyond Romance