All Of Tatcha's Cult-Favorite Products Are On Sale Right Now (& Yes, The Water Cream Is Included)
Presley Ann/Getty Images Entertainment/Getty Images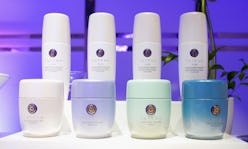 Skin care may always be a highly debated topic. After all, what works for you may not work for someone else — and vice versa. However, there is one brand in particular that seems to win over fans regardless of who they are (and what type of skin they have): the Japanese beauty and skincare maestros over at Tatcha. And beginning June 2, every single product on the brand's website will be marked down for Tatcha's site-wide Summer Celebration Sale — which yes, includes the celebrated Water Cream and Meghan Markle's favorite Rice Polish exfoliator.
Already clicking over to Tatcha's website? No one could blame you. Fans of the brand know that finding a sale on Tatcha's beauty products is rare; and if you weren't a Tatcha follower before, you probably will be after your order arrives. Until June 6, all you have to do is type in the promo code SUMMER19 at check out and a 15 percent off discount will be automatically applied. It doesn't matter if you snag Markle's beloved Rice Polish, Kim Kardashian's go-to Luminous Dewy Skin Mist, or the cult-favorite Tatcha Water Cream. Just enter the Summer Celebration Sale's code and you're good to go. (Anything that is excluded from the event — such as already-marked down value sets — is clearly labeled, too.)
Use this as an excuse to shop Tatcha's new Satin Skin Mist if you don't know where to start — or already have a skincare fridge stocked with the brand's products. The $48 Satin Skin mist is a gateway into the skincare innovation that is Tatcha: Billed as a "liquid powder face mist," it contains a pore-minimizing mix of Okinawa clay and Hadasei-3, Tatcha's signature superfood blend.
On the other hand, you may be completely distracted by Tatcha's makeup products, or find yourself adding all of its moisturizing body care to your shopping cart. With Tatcha, there's really no wrong place to start. However, if you're interested in what may sell out first, keep scrolling down; a list of best-selling Tatcha products is ahead.