Almost Everything Is On Sale At Tarte Right Now — Here's What You Should Be Stocking Up On
Courtesy of Tarte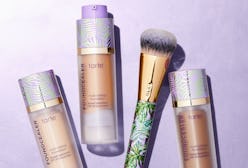 If there's anything that could make a sale better, it's including cult-favorite beauty products. And when you head over to Tarte's Friends & Family Sale, that's exactly what you'll see: The beloved makeup brand giving major discounts on some of its best-sellers along with a handful of new releases. In other words, you don't want to pass this up.
Despite the name of the sale, you don't have to be an insider to get involved. From now until April 16, you can receive 25 percent off on nearly all of Tarte's products. Simply enter the code "BESTIES" at the checkout to receive the discount. If you've been wanting to try out the brand's newer products like the Babassu Foundcealer Foundation and the Face Tape Foundation — or you've already become a devotee and want to stock up — this is the time to do it.
Just in case you're not sure where to start, you can always opt for the basics, like the Base Tape Hydrating Primer, which is $22.50 when you use the code. Layer this primer underneath your makeup for consistent moisture and a smooth finish throughout your day. Or, take the opportunity to buy the Shape Tape Contour Concealer, which comes in 30 different shades. This concealer has earned a near-perfect rating based on 11,105 reviews — and if that isn't enough to convince you to buy it, the $20.75 during the sale might do the trick.
Looking for another tried-and-true product from the brand? Tarte's Lights, Cameras, Lashes 4-in-1 Mascara has an average rating of 4.7 stars based on 4,302 reviews. This vegan mascara promises major volume, and includes ingredients like rice bran and olive esters to soften and condition your eyelashes.
Beauty lovers across the country have also gone crazy over Tarte's eyeshadow selections, including the bestselling Tartelette in Bloom Clay Palette. This set includes a mix of 12 matte and shimmering shades and is available for $29.25 when you apply the discount.
You can find some of the beauty brand's skincare products in the Friends & Family sale, too. Prep your skin with the Rainforest of the Sea Deep See Collagen Super Serum, which has ingredients like plant collagen and argan oil to provide complete hydration. Or, if you need an extra boost of moisture, the vegan Drink of H2O Hydrating Boost Moisturizer could be the answer to your dry-skin qualms.
Scroll down to see more of the popular products from Tarte's Friends & Family Sale you should stock up on before the deals end.