Target's Magnolia Line Will Give Your Home An Instant Holiday Upgrade
Target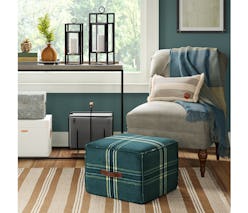 It's about that time: Your seasonal party calendar is rapidly filling up along with your shopping list and, to make things even more interesting, your home is still decked out in fall harvest decor. It's for this very specific case of holiday anxiety that the shopping gods created Target's home decor line Hearth & Hand with Magnolia, the uber-chic brainchild of everyone's favorite Fixer Upper couple Chip and Joanna Gaines.
Despite just launching a year ago, the line has already developed a cult following, thanks to its rustic, country-cottage aesthetic and super seasonal offerings that are as versatile as they are chic. And this season is no different. The brand's latest winter installment is chock-full of charming pieces that will give your home the perfect holiday makeover, without being over-the-top.
That means, instead of kitschy red and green tablecloths and silver and gold centerpieces, you've got cozy navy plaid throw pillows, wood and wire serving trays, and ivory-speckled jug vases. Yes, leave it to Chip and Jo to deliver a quintessential holiday decor line that feels fresh, unique, and, more importantly, not cheesy.
So if you're at a loss for how exactly to make your space merry and bright this year, try a more subtle approach and take a page from the Gaines' book. Swap out your autumn leaf door decor for a eucalyptus wreath, your cornucopia centerpiece for a brass candelabra, and your orangey-red plaid quilt for a Nordic star-printed one.
And if you fall on the more festive side of the spectrum, there's a little something for you, too. The line has stunning gold candle holders, adorable stockings to hang on the chimney (with care) and all manner of tree accessories if you're one to invest in a little pine each year.
What's more, a vast majority of the pieces in the Hearth & Hand winter collection will actually serve you well into the spring and summer (and every following season, for that matter). Many of the items are decidedly practical and set in neutral colorways and textures, so they can be reimagined for any and all decor schemes. For instance, after the holiday, you can swap out eucalyptus or pine branches in your Magnolia vase for daisies or sunflowers. And your metal storage bin will be just as useful storing magazines or light linens in the spring as it is storing firewood and cozy quilts in the winter.
If you're rapidly calculating all these finds in the cash register that is your brain, don't worry too much. The beauty of Target's Magnolia line is that it is, of course, incredibly affordable. No, really. Pieces start for as low as $7.99 and only run to about $189.99. So, that means you can hit every room with a little seasonal touch sans buyer's remorse.
To help you get a running start on decking your halls, ahead, find 10 pieces from the Hearth & Hand with Magnolia line that won't cost you more than $100. Give that silver and gold tinsel a break this year.