Chip And Joanna Gaines Just Announced A Target Line, And We Want Everything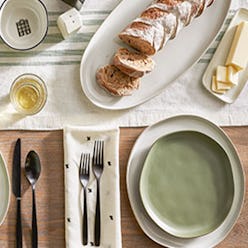 If you're still reeling from the news about Target removing longstanding (and beloved) brands like Merona, Mossimo and Cherokee from its roster, dry those tears. A new era is dawning for the mega-retailer, and things are looking good. Yes, the rumblings about several brand-spankin'-new lines hitting Targets across the country are finally coming to fruition this fall. And while we're stoked about all these additions to the lineup—which include womenswear line A New Day, workout brand JoyLab, home decor label Project 62 and men's line Goodfellow & Co.—we're especially excited about one particular celeb-designed collection that will be on shelves come November.
Fixer Upper stars Chip and Joanna Gaines just announced they are joining the Target family with the launch of their line Hearth & Hand with Magnolia. In stores and online on November 5, this extensive home offering (which is a collaboration with the retailer's Magnolia brand) features more than 300 pieces that range from tabletop essentials to home decor gems to gifting items. Because it's Target we're talking about here, you know these prices will be more than reasonable—which means we will probably take one (or five) of everything.
And since we're all about spreading that shopping love around, we thought we'd get your hearts pumping too with a sneak peek at what's to come from Hearth & Hand and the other much-anticipated lines coming this fall. Looks like we're all going broke.
Homepage image: Target
Hearth & Hand With Magnolia: Available November 5
Project 62: Available September 19
A New Day: Available August 27
Goodfellow & Co: Available August 27
JoyLab: Available October 1