Why Tamara Mellon's First-Ever Sneakers Are Worth The Splurge
Courtesy of Tamara Mellon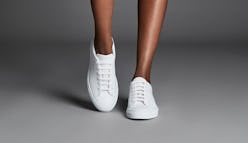 As far as footwear is concerned, once summer comes around it seems like all anyone can talk about are sandals. With temperatures soaring and trips to the beach on your schedule, it makes sense you'd want to bare some skin and let those toes breathe — but at the end of the day, you can't get through the entire summer with strappy shoes alone. A dependable, but stylish sneaker is also key for days spent running errands or biking through town. And Tamara Mellon's OMW sneakers are the only style you'll need — because they'll go with literally everything you'll be sporting this season.
Shoe trends, as with everything else, will come and go. Sure, everyone's styling their naked sandals with every outfit right now, but before you know it there will be another silhouette on everyone's radar. That said, there are some styles that will stand the test of time. On the list? A sturdy, sleek pair of sneakers. And that's why cult-loved brand Tamara Mellon's latest launch is so smart.
The stylish shoe brand — beloved by savvy dressers everywhere, including Meghan Markle — just launched a brand-new sneaker, its first-ever. The fresh silhouette is the start of a whole new category of shoes for Tamara Mellon, and a strong start at that. The shoe, cheekily dubbed the OMW (an abbreviation of "on my way") is a sleek, wear-with-anything style that'll make summer dressing easier than ever.
The OMW, which is crafted in Italy in the very same factory as Hermès' luxurious sneakers but retails at half the price thanks to the brand's direct-to-consumer model, is available on Tamara Mellon's website in two different color ways. Snag the low top style, $395, in super-sleek white calfskin leather, or soft black suede — either way, both colors are equally as practical, comfortable, and easy to style.
Both Italian-made sneakers feature white rubber soles and white laces, giving the white calfskin leather style a classic, monochrome look and the black suede shoe a cool, modern vibe. Pick your pair depending on whether you tend to trend towards a more timeless aesthetic or something a bit more edgy. The white sneaker would style easily with tailored pieces or sweet sundresses, while the black suede pair would play up the cool-factor on raw-hemmed denim and a fringe-adorned jacket. Either way, they're fit for just about any summertime activity.
"Our mission is to give women what they want, and serve the needs of all aspects of her life," Tamara Mellon said in the OMW launch's official press statement. "We're continuing to achieve that with the launch of more everyday styles, so it seemed like the natural next step to do a sneaker. Pun not intended."
Snag the versatile style for yourself in your favorite shade (or both), by scrolling below.