10 Celebrity-Approved Nail Polish Colors To Wear All Summer Long
Gareth Cattermole/Getty Images Entertainment/Getty Images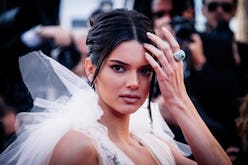 For taking up such a small percentage of your body, your fingernails can say a surprising amount about your personality. Rainbow colors are typically an indication that someone is bubbly or bold, while black can be interpreted as somewhat of a political statement (especially if you're Meghan Markle). Each season yields a whole new palette of hues, so see which nail polish colors celebrities are obsessing over this summer, ahead.
In a world full of eclectic aesthetics, mutual adoration for a good manicure is something we all have in common. You know by the celebrity manicurists you follow on Instagram that painting nails is no child's play these days. But you don't need intricate emojis and poetry written across your fingers like Cardi B for your manicure to be considered top-quality. A simple nude will do, just ask Gigi Hadid.
Between subtle neutrals and bold neons, this summer's nail color trends span from each end of the color spectrum. Whether you're in the market for some statement nails for the weekend or you're looking to keep it professional for work, there's an abundance of pretty hues to choose from.
Guess it's time to book that next appointment with your manicurist.