How Summer Fridays' New Mask Can Help You Get Your Glow Back This Winter
Courtesy Khalea Underwood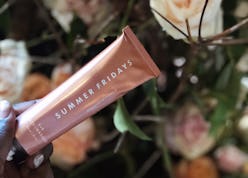 It can be hard to schedule in self-care time, no matter how sorely it's needed. Sometimes, there just aren't enough hours in the day (especially this season, when winter nights are extra long). And if your skin is showing the telltale signs that it's in need of some extra TLC, you'll want to grab Summer Fridays' R+R mask STAT — it promises a spa-like treatment in ten minutes, so you can get your glow back in spite of your busy schedule.
Summer Fridays officially launched its R+R mask on Jan. 30, welcoming it into the fold of its existing line of two masks — the Jet Lag and Overtime masks — just in time to help you get your dry, dull winter skin back to its beautiful, glowy ways. And just like the two that came before it, the R+R mask is full of good-for-you ingredients dedicated to helping you get selfie-perfect skin in an instant.
The thing that sets the $52 R+R mask apart from its predecessors is its unique dual-purpose formulation. An exfoliating treatment and nourishing moisturizer all in one, the mask first uses gentle ground wild rose powder to sweep away dead skin cells that cause dullness and clogged pores, and then soaks your skin in a rich, hydrating potion of natural oils — avocado, sesame, argan, and grape seed, to name a few. The result? Petal-soft skin that's been gently buffed then luxuriously moisturized for a glowy, revitalized appearance.
And before you worry about how you'd possibly fit such a luxe treatment into your routine, you'll be happy to know the Bulgarian rose-scented mask works its magic in just ten minutes. Whenever you're feeling low on glow, apply a generous amount of the R+R mask to towel-dried skin after cleansing, then sit back and relax (Bonus points if you light a calming candle to set a spa-like mood). After you feel sufficiently soothed, gently wipe the mask off with a damp cloth and pat any remaining oil into your skin. Glowing skin doesn't get much easier than that, right?
Thanks to Summer Fridays' dedication to using only the best, most natural ingredients the brand can get its hands on, you also don't have to worry about any icky ingredients mingling with the mask's skin-saving goodness. As always, R+R's richly nourishing, anti-inflammatory formula is free of phthalates, surfactants, petrolatums, BHT, BHA, or silicones, and is vegan and cruelty-free.
The third mask created by Summer Fridays founders Marianna Hewitt and Lauren Gores is available Jan. 30 on the brand's site and via the Sephora app, at Sephora.com on Jan. 31, and in Sephora stores by Feb. See and shop the glow-getting mask below.