How To Wear 2019's Most Unexpected Summer Shoe Trend
@laurencaruso_ On Instagram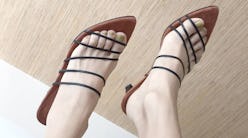 Of all the trends to rise from the ashes in 2019, kitten heels sit at the tip-top of the popularity list — and it's not entirely surprising. These not-so-high heels have been redesigned with fresh silhouettes and bold hues that take them up a notch from the '90s-era iterations. Though vintage styles nailed the sleek, minimal aesthetic, they didn't offer the color or variety currently available. In fact, for summer 2019, there are several kitten heel trends worth considering as you do your shoe shopping. So, if you're not sure which route to take, you've come to the right place.
Kitten heels are a practical alternative to a pair of stilettos because they offer a similar aesthetic, but without the sharp pains and limited mobility. But beyond comfort, cult favorite brands like Cult Gaia and By Far have helped catapult the shoes to success with their artful interpretations of what a short heel can look like. These trendsetting brands have reimagined the style by adding in sculptural details usually reserved for taller shoes.
Below, you'll find the key categories of kitten heels to test in the months ahead as an alternative to your usual sneakers, flats, and boots. Whether you're in need of a new 9-to-5 shoe that won't leave you with arch pain halfway through the day, or you simply want to swap out your stilettos for something a tad more practical, these are the styles to consider. See how a few of Instagram's finest tackle each kitten heels trend, and shop your favorite picks to join the fun; you and your shoe closet won't regret it.
Pointed Toe Mules
For those days when you're not feeling flats for work, but a pair of high heels also sounds unappealing, consider the happy balance: low-heel mules. These pointed-toe, backless kittens are polished and professional enough for work but are playful enough that they also translate to after-hours. Wear yours with a button-down shirt and pleated skirt during the day, then change into your favorite silk slip dress afterwards.
'90s-Inspired
A strappy, low-heel sandal in a pop of color or versatile neutral hue feels very of the moment. Style with everything from a printed matching set to a tee and jeans — these shoes go with all styles and the result will always feel more elevated than your standard sneakers.
Statement
Just because your heels are low to the ground doesn't mean your aesthetic can't be high brow. Reach for a pair of kitten heels that add a little oomph to your style, like ones with lucite heels, color blocking, or asymmetric straps. With the choice of such eye-catching shoes, keep the rest of your look laid back — think tee and satin slip skirt, or a graphic tee and Bermuda shorts.
Square Toe
You may have heard that square toes are back in style in 2019. The silhouette has found its way into the designs of a few key brands for the season, including the covetable Toteme mules above. This statement style is the perfect polished look for the office.