5 Surprising Shoe Trends That Will Put You Ahead Of The Crowd In 2019
@songofstyle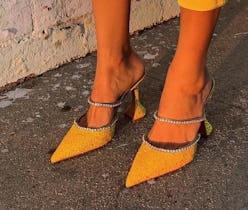 Much like the start of a new year, a new chapter of your life begins with putting your best foot forward. Sure, it's an overplayed cliché, but it's a cliché for good reason: The truth is that a great pair of shoes offers both comfort and a boost of confidence — two things that sound pretty nice when it comes time to launch into something nerve-wrackingly new. So, now that 2019 has arrived, what are the new shoe trends that can help you kick things off right?
Below are five key footwear styles that are steadily gaining momentum, proving to be the must-try shoes of the 12 months to come. Over the past few years, fashion has increasingly turned away from minimalism. Just scroll through Images of Gucci's last runways or Google search Balenciaga's Triple S sneakers; there seems to be no upper limit to the "more is more" adage.
But, in this upcoming new year, expect this out-of-the-box styling to become a bit more refined. Sure, you can still expect a rhinestone here, a lug sole there, but the reigning designs approach trendiness with a bit more restraint. Below, find the key styles to give a try in the months ahead.
Lace-Up Boots
A little bit Victorian and a little bit Bohemian, laced ankle boots offer a dose of romantic nostalgia this year. While conveniently hidden zippers mean that you don't actually have to worry about tying and untying most pairs, the lace-up detail gives a certain gussied-up effect to your go-to outfits.
Ladylike Pumps
Don't write off a fancy pump as too prim and proper. Thanks to the addition of thoughtful details — rich fabrics, hints of sparkle, and plenty of color — ladylike pumps feel especially fresh. To keep them cool, try styling with vintage jeans and a relaxed tee.
Retro Sport Sneakers
Have chunky sneaker fatigue? Good news: In the new year, the over-the-top franken-shoes will be replaced by funky, retro-inspired footwear. Though the term "dad sneakers" may still be an apt description, these are the shoes that you might actually spot in '90s family photos.
Square Toes
Square-toed footwear may not strike you as particularly refined, but modern iterations of this formerly clunky silhouette feel surprisingly elegant. Whether it be the elongated toe of a croc boot or a minimalist sandal, the square toe fits squarely into the year's top trends. If you're still hesitant, try pairing the shoe with classic pieces like a sleek slip dress or a well-tailored blazer.
Platform Boots
Looking for a little extra lift? Boots (and come summer, also sandals) with a platform are poised for a comeback this year. A little extra lift at the toe can actually make for a more comfortable shoe (since the high heel angle isn't quite as steep), which means you don't have to sacrifice comfort for your look of the day. For an of-the-moment take, try styling the boots with trousers and a shrunken cardigan.