The Charlotte Tilbury-Approved Trick To Recovering From A Career Mistake
Courtesy Of Charlotte Tilbury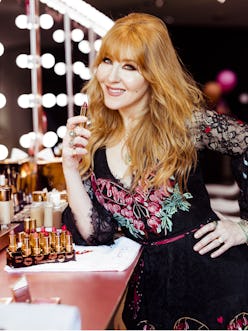 If you're in the market for some sage career advice, Charlotte Tilbury would be a worthy source. The British-born celebrity makeup artist-turned business owner has literally done it all in the wild frontier that is the beauty industry — including executing her own eponymous makeup line. And despite some six years of rapid business growth under her belt, Tilbury probably knows a thing or two about making career mistakes — and even more about recovering quickly from them.
At first glance, it seems like everything the British-born MUA touches turns to solid gold. In addition to her successful career as a celebrity makeup artist (she counts Nicole Kidman, Sienna Miller, and Penelope Cruz as clients) that spans over 20 years and her now-viral makeup line, Tilbury also just celebrated the opening of her first flagship store in Los Angeles. This meteoric rise to success begs the question: How exactly does one go from makeup artist to mogul so seamlessly?
According to Tilbury, it's all a matter of making your goals your only option. "Throughout my 26-year career as a makeup artist, I have always wanted to share the power of makeup and show everyone of all ages how to look and feel like the most beautiful versions of themselves every single day," says Tilbury to The Zoe Report. "I was lucky enough to work for some incredible brands out there — from Tom Ford to Helena Rubenstein — but ultimately, I wanted to create my own limitless beauty revolution. I saw an opportunity for simplicity in the market, focusing on creating products that were easy to use, easy to choose, and easy to understand for consumers, with ground-breaking products of the highest quality."
Ground-breaking, indeed. From the cult-favorite Magic Cream to the Cheek to Chic, it seems Tilbury and her beauty treasures are officially a household name, thanks to their ease of use and results-driven formulations. And while it seems like the uber-popular brand has been around for ages, at just six-years-old, it's still fairly fresh on the scene. To glean some insights on how to take a brand from obscurity to mega-famous, and how to navigate the inevitable mistakes and hurdles involved, ahead Tilbury gives us a crash course on business building. Take notes.
The Zoe Report: What made you want to start your own brand?
Charlotte Tilbury: "I always knew I wanted to create my own makeup brand soon after my discovery of makeup, aged 13. Instead of sweets and treats in my tuck box I would have one filled with makeup. [...] [I always knew I wanted] to create a brand where no one felt daunted, but excited and empowered by it instead. I knew I could help people by giving them the guidance of an expert, helping them at every step. This dream became a reality for me when I founded and launched Charlotte Tilbury beauty in September 2013."
TZR: What do you think your brand is most known for?
Tilbury: I think I am most known for my career as a makeup artist, having been in the industry for so long. I have had the most incredible experiences — and I still do. I am passionate about taking the industry secrets out of the VIP world and giving everybody access to the knowledge I have acquired over two decades — bottling all of my red carpet, backstage and celebrity beauty secrets to share the power of makeup with everyone, at every age.
TZR: How would you describe yourself as a leader/boss?
Tilbury: You need to be professional, dedicated and hard-working to make it in the industry, but most of all you need to have fun. I am passionate about using my strength, passion, and drive to inspire, support, and empower others. I am also proud to have a team that is 85 percent female, and I feel honored to think I am now inspiring other women to believe in themselves as powerful, successful businesswomen, too.
TZR: What lessons did you learn in the early aughts of building your brand? Any mistakes along the way?
Tilbury: When you create and launch a brand, of course there are a lot of challenges, but I really believe it depends on how you choose to perceive them. Rather than see these times as lows or mistakes, I see them as learnings and opportunities. Self-belief is so important — it's just our insecurities that stop us and block us. One of my golden rules is: Life is not linear, I don't believe in negatives. If you listen to your intuition, and read the signs of life, it will always lead you to a positive.
TZR: What do you look for when hiring employees? How selective are you?
Tilbury: I surround myself with like-minded colleagues who share my 'limitless' vision for the brand. I always say it takes a team to build a dream and I work with the most incredible, limitless thinkers and rule breakers. I have been blown away by the incredible talent, determination, and drive of my wonderful Team Tilbury. We started out in Queen's Park, London, in a small mews house, just the five of us, and now we are a global brand, with over 1,000 employees and global head offices in London, New York, and Hong Kong.