The Red Carpet Beauty Predictions We Totally Didn't See Coming
Frazer Harrison/Getty Images Entertainment/Getty Images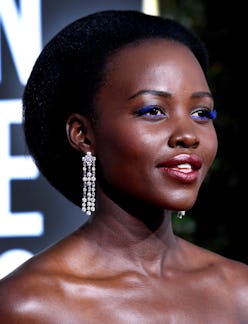 Red carpet events aren't just an opportunity to stan your favorite actresses, artists, movies, and albums. They're also a breeding ground for head-to-toe beauty inspiration. (You know you're still talking about Lady Gaga's icy hair, or Lupita Nyong'o's game-changing blue Lashify falsies.) With the 2019 Golden Globes and the Critics' Choice Awards already out of the way, and with the SAG Awards, Grammys, and Oscars coming up, there will be an infinite amount of new looks to try, along with red carpet beauty predictions to guess all season long.
"I hate the cliche beauty rule that says if you do a bold color on the eyes, then you have to do lips nude, and vice versa," says celebrity makeup artist Nick Barose, who includes Nyong'o, Alicia Vikander, and Amy Poehler among clients. "Be colorful and chic, just keep it matte." Which goes to show that all rules from yesterday will be boldly broken... and will keep rapt audiences buzzing until 2020. Ahead, see the hair, makeup, and nail trends you'll likely spot in a couple of weeks, as told by Barose, colorist Rita Hazan, hairstylist Nai'vasha Johnson, makeup artist Ash. K Holm, and manicurist Gina Alcedo.
The Braid-y Bunch
"I believe the trend that will dominate this year is the intricate braid —every variation of complex braid will make an appearance," celebrity hairstylist Nai'vasha Johnson tells TZR. Janelle Monáe's double buns, done by Nikki Nelms, are an outstanding example.
Electric Eyeliner
"A graphic liner with a pop of color like blue, pink and orange is going to be a big trend in 2019," says Holm, a celebrity makeup artist who is behind some of the best beauty looks seen on the Kardashians, and Lana Del Rey. "Dior's spring collection features an eyeliner with beautiful pastels — it's the onstage liner that comes in a marker form that makes it very easy to apply," she says. Nyong'o, above, turned to Barose for a bold, can't-stop-staring eye look at the Globes... and I'm inspired to purchase the first pair of blue lashes that I see, stat.
Peachy Neutrals
"Peach is the color people tend to think of as natural and it is when the texture is sheer, transparent — but [lately] we see a more matte and pastel version on cheeks, lips, and even eyes which makes it more quirky, dramatic, and not too natural," Barose observes.
At the Chanel Metiers D'Art 2018/2019 Show, Mackenzie Foy of The Nutcracker checked all of those boxes. "To get the lips to look matte, I prepped with a non-shiny lip balm, then added a small dot of the bright orange color from the Chanel La Palette Caractere on the center of lips as a bright base," he reveals. "Then I applied Chanel Rouge Allure Velvet in La Aristocratica by applying it directly from tube."
High-Shine Lips
"Glossy lips are making a big come back, as well as glossy eyelids and skin," Holm says. "Smashbox's Gloss Angeles Collection is all you need for plump glossy lips. I recommend shades like Sorbet Watch, Beachy Keen, and Surf Bunny." For the Globes, Irina Shayk opted for Marc Jacobs Beauty Enamored Hydrating Lip Gloss Stick in Mocha Choco-Lata!, which gave her a nice nude sheen.
Rounded Metallic Nails
"For the Oscars, I'm expecting much subtler looks," Alcedo says. "My clients are loving shorter squoval and rounded nail shapes with nude or metallic polishes that tend to lengthen fingers and make hands look more feminine."
Saturated Dye Jobs
"One of the big color trends for starting 2019 is going to be mega-rich bombshell colors. Deep chocolate brunettes, shimmering coppery reds, beachy, buttery blondes. Think natural-looking colors with subtle highlights; lush and expensive looking," Hazan notes. "Previously, there had been a lot of ombre and balayage looks. 2019 will be all about marrying your ends to your roots for a grown up vibe. Plus, it's always great to go with a deeper, warmer tone in the winter as it will give the illusion of having been in the sun." Lucy Boynton's bodacious blonde bob is a perfect example of that.