If You Thought This $48 Athleisure Trend Was Over, You're 100 Percent Wrong
Courtesy Fendi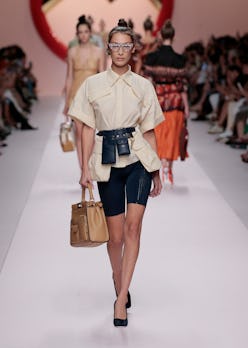 No matter how closely you keep an eye on upcoming trends, sometimes what comes down the runway surprises you. For Spring/Summer 2019, one such shock has been the continued iterations on how to wear bike shorts, a style that debuted this past spring. Though most fashion insiders would've pegged its lifecycle to be that of a single season, it seems the humble trend isn't going anywhere for the year to come: We saw bike shorts make appearances both on the runway (Maryam Nassir Zadeh, Fendi, Laqan Smith) and on the street style circuit. And while the bike shorts and blazer combo was one of this summer's most iconic looks, come the new year, expect to try wearing them in a host of new (and surprisingly cool) ways. Whether it be layering them under sheer dresses, or styling with a chunky oxford shoe, the continued sartorial love for this trend will win over past skeptics.
The TZR take: If you're intrigued to try these skin-tight shorts, the key to keep in mind is proportion. To take skin-tight shorts out of the spin studio and onto the streets (or even the office), it's one part conviction and one part knowing how to make these sporty shorts feel dressed up. Looser silhouettes — a boxy blazer, oversized button-down, or even a full-skirted sheer dress — create both balance and a sense of sophistication that may not exist when you're wearing these spandex shorts to hit the gym. Below, see a selection of bike short outfits from Spring/Summer 2019 runways, and shop the trend too — no training wheels required.
Fendi Spring/Summer 2019
At Fendi, models walked the runway in streamlined bike shorts that were paired with more tailored pieces along with the brand's utilitarian bags. On model Bella Hadid, heels and an oversized button-down added a level of sophistication to her ensemble.
Roberto Cavalli Spring Summer 2019
Roberto Cavalli debuted a dressed-up biker short (an odd concept, for sure), sending models down the runway in beaded styles that were paired with crisp blazers. To recreate this look at home, try styling a printed or embellished pair of leggings with ankle boots and a blazer.
Dior Spring/Summer 2019
In the romantic wheelhouse of Dior, the biker short appears in a subtle way, styled under whispy pieces and layered with ballet-inspired accessories. Try layering bike shorts under a sheer skirt or dress to recreate this look.
Marine Serre Spring/Summer 2019
Quirky-cool Marine Serre kept things sporty, styling the bike short with relaxed separates like casual tees and cool jackets. For a look that work work equally well for the gym or running weekend errands, style with flats or sneakers and a well-tailored, oversized tee.
Acne Studios Spring/Summer 2019
At the Acne Studios runway show in June, bike shorts were styled with polished leather. For a cool recreation of this look, style long biker shorts under a minidress so just the last inch or two peeks out from underneath.
LaQuan Smith Spring/Summer 2019
During NYFW, bike shorts made appearances on a handful of ruwnays. At Pyer Moss, high-waisted shorts had a wetsuit-like quality. While wearing just shorts and a bra might be too much, try throwing on a sheer top to finish this cool night-out ensemble.
Maryam Nassir Zadeh Spring/Summer 2019
Maryam Nassir Zadeh sent models down the runway in bike shorts for 2018's Spring/Summer collection, but continued to push the trend for 2019, styling them with the artsy pieces signature to the brand. A quirky belt and chunky knit will balance out the sporty nature of these shorts.