Sophie Turner Might Have Just Found Her Best Hairstyle Yet (Spoiler: It Includes Bangs)
Joe Maher/Getty Images Entertainment/Getty Images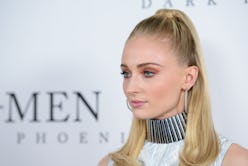 Sophie Turner is sampling all kinds of brand-new hairstyles lately. The day after debuting a retro, '60s-inspired half-up look, the actor was spotted leaving her London hotel with a fresh set of fringe. Sophie Turner's bangs are so cute you're going to wish she'd wear them every day.
While the rest of her cool-girl crew is holding down the red carpet in Cannes, this Game of Thrones actor has been busy promoting the new X-Men film in London all week. Turner of course brought along her hairstylist, Christian Wood, and he's clearly been having an absolute ball over the past few days.
First, it was a full-on '60s bouncy high pony (hoop earrings included) and now, it's faux fringe. The British actor debuted bangs for the first time ever on Thurs. and it might just be your favorite Sophie Turner look to date.
She introduced the look while leaving her hotel en route to another Dark Phoenix event, this time wearing a velvety beaded suit in navy blue. The 23-year-old seemed to have teleported from one decade to the next over the course of a single day, swapping her mod half-up hair for bellbottom pants and '70s bangs.
Her new fringe — courtesy of clip-ins, presumably — is choppy and long enough to brush her eyelashes. The rest of her blonde hair was down in soft waves parted in the middle. Turner's dark smoky eye and neutral lip complemented the bold hair change perfectly, too.
It was only a matter of time before the actor tried the fringe trend anyway. The rest of the fashion crowd — including Bella Hadid and Kendall Jenner — have been testing the waters, albeit only temporarily. Funnily enough, Turner's X-Men co-star Jessica Chastain debuted her own bangs just a week ago. Perhaps she was the inspiration behind Turner's bangs moment after all.
Inspired by the actor's latest hairstyle? Recreate the springy look with The Zoe Report's favorite fringe-worthy products.
Shop The Look