Sophie Turner Wore A Gown From 2013 To Joe Jonas' Birthday Party
Matt Winkelmeyer/Getty Images Entertainment/Getty Images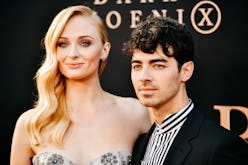 Sophie Turner is a next-season kind of girl. Everything from her wedding dress to the outfits she sported during the latest X-Men tour has hailed from yet-to-be-released collections, making it nearly impossible to replicate her look. Surprisingly, though, the dress Sophie Turner wore to Joe Jonas' birthday party was almost seven years old.
Giant dice and playing card garland decorated Cipriani Wall Street for Joe Jonas' 007-themed 30th birthday party on Fri. night. The singer reportedly made his grand entrance in an Aston Martin DB11 Volante with his Bond girl by his side.
Inside the ornate club in Manhattan's Financial District was a surfeit of casino decor including faux $100 bills with Jonas' face on them. The birthday boy wore a dapper black-and-white suit with a Bond-inspired bowtie. As for Turner, she opted for a dress from 2013.
The black cutout gown she arrived in is from a past Alexander Vauthier collection, but you'd hardly be able to tell it because the Game of Thrones actor made it look entirely different from its runway debut.
When it made its entrance in the designer's 2013 couture show, the dress was gathered at the neck and cut into a triangle on the torso. It had a hip-high leg slit, which Turner kept. She did, however, do away with the sweeping train and separated the two panels on the bodice to bare more skin.
If you could have sworn you've seen the gown elsewhere, it's probably because Taylor Swift sported it to the Vanity Fair Oscar Party in 2016. Fans who've been following Jonas' love life for the past decade were quick to point out the connection between Swift, who he dated in 2008, and his now wife wearing the same exact dress three years apart.
Swift, too, opted for the separated neckline, but kept the long train. Both paired the dress with strappy gold heels — Turner's by Gianvito Rossi and Swift's by Giuseppe Zanotti.
It's hard to say why the actor turned to such an old-school collection for her latest outfit, but most likely it's because the long, slender gown is pretty much the most Bond-girl dress of all time. In fact, you've probably seen Teri Hatcher, Olga Kurylenko, Eva Green, and Bernice Marlohe wear similar versions in the 007 movies.
After the festivities, Turner took to Instagram to show off her outfit. "Happy Batday Birthman," she captioned the photo of her and Jonas standing in front of a wall of metallic balloons.