Photos Of Sophie Turner's Wedding Dress Are Finally Here & They Were Worth The Wait
Nicholas Hunt/Getty Images Entertainment/Getty Images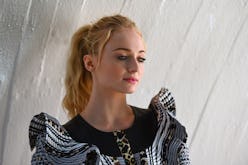 The first time this power couple walked down the aisle, ring pops and an Elvis impersonator were involved. Now, the Jonases (as you can officially call them) have exchanged vows for a second time in the romantic French ceremony of every bride's dreams. Photos from the day have finally surfaced, showing a glimpse of Sophie Turner in her stunning Louis Vuitton wedding dress.
Jonas and Turner take the cake for most secretive, hyped-up wedding of the year so far. The couple and their crew (including fellow Jonas brother Nick, Priyanka Chopra, and Turner's Game of Thrones bestie Maisie Williams) partied it up across the pond for about a week while the rest of the world waited for the big day to come.
Finally, guests and the bride herself have given the people what they really wanted all along: Photos of Turner in the dress, of course. On Thurs., the Dark Phoenix actor posted the first wedding photo, but you probably missed it in your Independence Day-themed Instagram feed.
The precious black-and-white photo shows the bride and groom walking hand-in-hand down the aisle while being showered by rose pedals. Most importantly, though, it shows an inaugural glimpse of the wedding dress everybody's been dying to see.
Turner opted for a ballgown by Louis Vuitton, for whom she's an ambassador. The short-sleeved number featured floral-embroidered tulle and silk gazar that took a team of 10 a whopping 350 hours to make, People reported.
Designed by Nicolas Ghesquiere, Louis Vuitton's Artistic Director of Women's Collections, the dress had a plunging neckline, lacey sleeves and allover overlay save the silky paneled shoulders and belt, a billowing skirt, open back, and an embroidered veil to match.
The designer posted a behind-the-scenes photo of Turner in the dress. Angled from behind, it showed the stunning open-back design and sparkly detailing.
More than a dozen meters of tulle embroidered with 50,400 crystals and the same number of beads (put together by 650,000 stitches, reportedly) is what it entailed to send this it-girl down the aisle. Thanks to Ghesquiere, Turner's bridal gown ended up being just as extravagant as the trendsetter, herself.
The actor wore her hair down for the big day, parted in the middle, tucked behind the ears, and in loose waves, almost like the first time she wed Jonas in some Las Vegas chapel wearing that BEVZA jumpsuit. Otherwise, almost nothing about the couple's two wedding ceremonies was the same.