Solange's Hairstylist Reveals The Message Behind Her Visual Album Looks — EXCLUSIVE
blackplanet.com/solange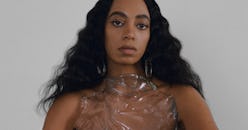 UPDATE: Solange's highly-anticipated album, When I Get Home, dropped at midnight EST on March 1.
Solange Piaget Knowles isn't going to roll out an album in any old traditional way — you know, the press tours, radio station appearances, fan giveaways. She won't give you a concrete date, or, really, even fair warning. Not that the world deserves — or needs — it. Anything she does, everyone will pay attention... which is why you probably see screenshots of the Grammy Award-winning musician's Black Planet profile all over your timeline. (For those who don't know, BP is a social media network for African-Americans, which peaked in the early 2000s but is clearly back now, because, well, Solange.) Since Solo is the genius that she is, every detail of this mysterious project is more than likely going to be a work of art... including the hair. Solange's hairstylist, Kendall Dorsey, is the brains behind those looks — and he's giving The Zoe Report exclusive details on the importance of hair in this body of work. (At least, he's sharing what he can.)
"The vibe for these looks were very raw, natural, and primal," Dorsey, who also works with Yara Shahidi, Usher, Nicki Minaj, and more, exclusively tells TZR. "We wanted the hair to have natural waves and texture that was soft, had lots of movement and danced with her."
And indeed, that's exactly what it appears to do in some of the imagery released on her Black Planet page — she seemingly does a pole dance routine in one image, and models a dazzling bikini drenched with crystals in a video clip. But even when the hair wasn't in motion, it still was meant to move you.
"For the first look, the beaded face mask, we wanted the hair to be very aerated... almost like there was nothing in the hair," he explains. "She's ferocious and letting her true beauty shine through. This was a 26-inch full lace wig with a clean center part. To style, I set with only water."
For another released look, where the singer wears a clear, water-like latex bodice and gloves, Dorsey used a full lace raw Indian hair wig from True Indian Hair. Using the Hot Tools 1" Marcel Iron, he created a slight, natural-looking wave using a crimping format. "The hair was then brushed out with the Olivia Garden Paddle Brush," he adds. "A light mist of Dove Dry Shampoo gave the hold and texture we needed — it's my secret weapon."
You'll see lots of length throughout the project, as Dorsey used natural, raw Indian hair full lace wigs ranging from 26 to 42-inches, all from True Indian Hair. And all of the hair was prepped with Evolis Professional Promote Shampoo and Reverse Treatment Mask prior to wearing it, he notes, adding that he also used 99.9 percent alcohol to really cleanse the hairline. A nude cap and göt2b Glued Blasting Freeze Spray was applied to make sure that every hair stayed in place, and WOW Root Cover Up Powder helped blend the lace.
But the project won't just involve loose waves — come on, this is Solange we're talking about, here. Expect to see 12 different looks, Dorsey says, as they shot six for the cover, plus 70 extra looks that all pushed boundaries. "I can't give it all away just yet, but I can promise you blonde, twists, and maybe even a bowl cut," he teases.
While that's all that Dorsey can reveal — for now — he's just as excited as the fans are for the world to finally see this project, which was a long time coming. "I was really excited and proud to work on this project. I was able to dig deep, creatively, and Solange is such an inspirational artist to be around."