Gigi Hadid Just Dropped Her Reebok Sneaker Collab & It's So Good
Nicholas Hunt/Getty Images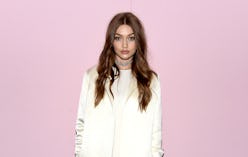 Gigi Hadid has almost singlehandedly brought the quintessential '90s-era chunky sneaker back in style. Now, the athleisure queen has joined up with a footwear favorite to create some designs of her own. Dropping just in time for the holidays, Gigi Hadid's Reebok sneaker collaboration would make perfect gifts for your fashion-forward friends.
If you know anything about the Victoria's Secret model's off-duty style, it's that she loves to be comfortable. Her street style outfits are rarely without a retro sneaker, a simple crop top, or a cozy hoodie, all with a high-fashion twist, of course. So, it made perfect sense when Hadid announced that she would be designing a collection of sneakers and t-shirts for Reebok during a trip to Tokyo on Nov. 14.
She said the sporty series would be called "Future Nostalgia," an oxymoronic metaphor for the cyclical tennis shoe trend. And while you'll have to wait until 2019 to shop the full collection, four of Hadid's designs are available right now.
Reebok teased the collection by dropping a few styles on Fri., which means you still have time to include them in your holiday haul. The 23-year-old's super-stylish dad shoe designs include a boot-style chunky leather high top with throwback ripple bottoms, available in black and white, for $130.
Hadid also paid homage to the brand's most iconic '90s running shoe with an updated version featuring neon pops of color — yellow on black and red on white — for $110.
The model chose to make her designs unisex, too. Menswear was undeniably a huge trend this season, so it makes sense Hadid's collection is right in line with street-style and runway trends.
She and model friend Kendall Jenner recently made a surprise appearance on Versace's Spring/Summer 2019 menswear catwalk during Milan Fashion Week. About a month ago, Jenner even wore men's trousers. Fully unisex labels are starting to emerge, too, like the Los Angeles-based "non-demographic" brand 69.
Hadid's latest Reebok sneakers are such dad shoes that dads can literally wear them, too. They're the key to copying the trendsetter's retro, athletic style. Simply pair the footwear with leggings and a graphic top for that fresh-from-the-gym look that's so on-trend. Or for a bolder, more elevated look, wear them with a feminine midi skirt or a menswear-style blazer.
Ahead, shop the first half of Hadid's Reebok collection while it's still in stock. Don't forget to watch this space — the rest of the model's line hits stores in Jan. and Feb. next year.
Shop The Collection