Gigi Hadid Is Launching A Collab With This Cult-Favorite '90s Brand
Rich Polk/Getty Images Entertainment/Getty Images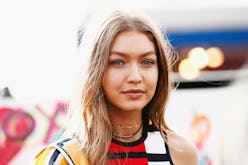 It's impossible to think about '90s style without athleisure popping into your head. Back then, you'd be hard-pressed to turn on the TV without spotting at least a hint of activewear, whether it be a chunky dad shoe or a pair of track pants. Fast forward 20 or so years, modern day style icons are consistently incorporating the laid-back era into their fashion rotation, as evident by Gigi Hadid's new Reebok collection.
Athleisure has been going strong again for a few years now, with everyone from Emily Ratajkowski to Hadid herself rocking biker shorts, Nikes, and stretchy two-piece sets as everyday attire. And whether you're headed to the gym or just running errands while simultaneously pretending you're doing the former, it helps to wear something you can move in while still looking trend-forward. That's where the model's latest design collab comes into play.
The Victoria's Secret model announced her collaboration with the athletic brand, dubbed "Future Nostalgia," in Tokyo on Nov. 14, and debuted a tee and sneakers from the '90s-inspired line. Hadid also took to Instagram to show off the black-and-yellow shoes, complete with leather detailing, an undeniable nod to the '90s aesthetic. What better way to muster the motivation to get a run in than a sleek new pair of sneakers?
Even though Gigi might be new to the footwear designing scene, she's certainly no stranger to laid-back street style. Known to rock activewear while on-the-go, the 23-year-old makes even the chillest of outfits look chic. A master of high-low style mixing, Hadid knows how to strike a balance between luxury and relaxed.
Case in point: After her Tokyo appearance, the model landed at Sydney airport sporting the branded tee from her collection and a Prada bag. If anything calls for a comfy yet stylish getup, it's international jet-setting, as the model has proven time and time again (read: if you need inspiration when piecing together the perfect travel outfit come holiday season, you know where to look).
If you're looking to add some nostalgic athleisure to your travel wardrobe, this forthcoming collection could be a great place to start. Remember, a dose of nostalgia doesn't have to read dated, especially when styled with a modern twist. Crop tops don't have to be intimidating, either. Something as simple as adding high-waisted bottoms — which Hadid is a big fan of — makes a crop top feel more approachable. If you still want a bit more coverage, tie a sweatshirt around your waist, or zip it up halfway, and you're all set.
The full "Future Nostalgia" collection is expected to launch early next year, but you can shop the previewed logo tee and sneakers on Dec. 7. Just in time for gifting and ramping up your wellness routines as the New Year approaches, Hadid's effortless style will be yours for the taking. And if you've got holiday travel plans approaching, rest assured you'll be hitting the airport in style, and making a nod to the undeniable coolness of the '90s while you're at it.