Scarlett Johansson's Best Hair Moments, From Marilyn Monroe Curls To Pompadours
Laurent KOFFEL/Gamma-Rapho/Getty Images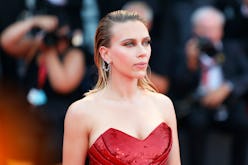 While it would normally be a cliche to say someone has tried "every hairstyle in the book," the overused expression is perhaps the only way to sum up the lived experience of Scarlett Johansson. Before the Kardashians, et al., normalized the notion of transient hair changes, it was this iconic blonde (/brunette/redhead/whatever) who became the *original* chameleon. A tribute to Scarlett Johansson's best hair moments, ahead.
In the early days of SJ, the now Marvel star was known for her peroxide-dyed Old Hollywood waves. It wasn't long before the refined facade faded into edgy mullets and experimental fringe — both cringey tokens of the '00s, as any early-aughts kid would know. After trialing nearly every length and color known to man, she pivoted to her current mission: the pixie cut. And already, she's managed to style what couple inches she has left into countless different creations.
Now that we've watched her walk the red carpet in puffed-up pompadours, tiaras, curtain bangs, bobs, bouffants, retro updos, and a plethora of styles so unique they haven't even been named, we can sit back and reminisce on the best of 'em. Behold the time capsule that is Scarlett Johansson's hair.