SJP Just Wore A Puffer In The Most Stylish Way
Jamie McCarthy/Getty Images Entertainment/Getty Images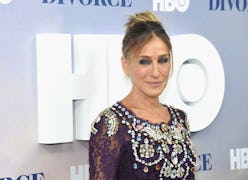 Who would have thought to pair a sporty down jacket with pretty floral and ruffles? None other than the woman who brought Carrie Bradshaw to life, of course. Sarah Jessica Parker's dress and puffer outfit just showed everyone how to layer up in the chicest way.
On Thurs., the Sex and the City icon spent her day off fitting customers in her own dazzling shoe designs at the SJP pop-up shop on 52nd Street. Parker took a brief break from filming the third season of her latest series, Divorce, but only to catch up on her other gigs.
After stopping by the set of TODAY to talk about Golden Child — a new novel by her imprint, SJP for Hogarth — the actor headed to her Midtown boutique to mingle. She battled the polar vortex on her busy day with so many impeccably paired-together layers in true SJP style.
First, she put on a long bohemian frock with a ruffled skirt by Warm. The dress is designed with a subtle floral print and features a flouncy tiered skirt and multicolored trim. The next layer was perhaps the most unexpected one: a collarless black puffer jacket to keep the actor-turned-fashion-designer cozy in the frigid temps.
The look just kept getting better, too. SJP completed it with a sleek cream-colored wool coat and slouchy ankle boots in a pale-pink hue, a variation of SJP Collection's bestselling Reign boot. According to the footwear brand's Instagram, the "never-before-seen mauve suede" that Parker was wearing is only available at the 52nd Street location.
You might not have thought that all these pieces, when paired together, would create a such a dreamy look, but SJP proved once again that she's the fashion authority here. She even packed her essentials into another surprising accessory, a black quilted backpack.
But copying this trendsetter's look is no easy feat, so recreate her latest outfit with these SJP-inspired combos, curated by The Zoe Report.
Shop SJP-Inspired Layers