How To Build The Ultimate Party Wardrobe, According To Sarah Jessica Parker
Stuart C. Wilson/Getty Images Entertainment/Getty Images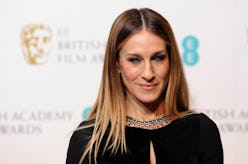 When it comes to glitter, sequins, and other sparkly things, Sarah Jessica Parker reigns. The Sex and the City icon has been mastering party looks since her Carrie Bradshaw days. Her impeccable style is proof that you can dress festively at any age, so be sure to keep SJP's party capsule wardrobe in rotation.
Whether she's walking the red carpet at the Met Gala, attending the New York City Ballet, or just going about her glamorous life, Parker is always dressed to the nines. Although it's been decades since she and her Sex and the City character simultaneously coined their signature over-the-top styles, the 53-year-old still hasn't given up her glitzy look.
Parker is always the best dressed at the party. She often sets her look with a pair of bold pumps or a statement coat — sometimes even both. Ahead are five things your wardrobe needs for a night out, all inspired by Parker herself.
Festive Coat
Anytime SJP steps out of the house, she's bundled up in another variation of a long, wool coat. On Oct. 30, it was a glittery magenta tweed coat over a metallic pink midi dress, then on Nov. 2, she sported a pink plaid number over an emerald-green animal-print frock. Her festive outerwear always elevates her looks.
Pleated Midi
Parker has a midi skirt in every color, it seems. She likes them pleated and full, giving her a classic A-line fit. From the red skirt she sported for a recent exhibition to the shiny teal midi she wore to an Intimissimi show in Italy, these flowy pieces are a staple in her ultra-feminine wardrobe.
Metallic Dress
It's no secret that the Failure to Launch actor is partial to anything that sparkles, and over the years, her love of shiny things seems to have only gotten stronger. SJP works the cheerful trend into her looks as often as possible, but always in the most elegant way. In Oct., for instance, she appeared on The Late Show with Stephen Colbert in a metallic rose-hued midi. The actor also wore a metallic striped dress to the Deauville American Film Festival and a glittery navy-blue number to the premiere of Here and Now, too.
Bold Pumps
Even when the trendsetter is wearing a basic LBD, she dresses it up with a fashion-forward pump. A shoe designer herself, she often sports her own collection, which — as you would expect — is full of bold footwear. A colorful heel is one surefire way to ensure you're the best dressed at every party, even when you're wearing the simplest outfit.
Fishnet Tights
While "stylish" probably isn't the first word to come to mind when you think fishnet stockings, Parker's recent looks are proof that these netted tights can be paired with an elevated outfit, too. Several times this year, the actor has sported fishnets under mid-length skirts and dresses, and she shows no sign of stopping anytime soon.