Saks Off 5th's New Beauty Line Has The Chicest $5 Hair Accessory
Courtesy of Saks Off Fifth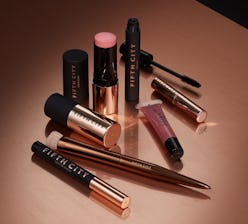 What could possibly be better than a department store when it comes to providing the style set with a one-stop shopping destination for literally everything they need? The thrill of finding incredible designer deals at a department store's off-price outfit definitely ranks high on the list. And being able to scoop up exceptionally priced beauty products in the process, well, that just takes the cake. That's exactly what you'll be able to do the next time you shop at Saks Off 5th, because the just-launched in-house Saks Off 5th Beauty Collection FIFTH CITY has officially landed, and it has just about everything your beauty shelf needs.
If you love hunting for the best of the best at beautifully low prices from your favorite designers as Saks Off 5th, you'll be very happy to hear the news of the store's latest launch. March 21 marks the official drop date of the brand's own exclusive beauty collection, FIFTH CITY, which offers luxe, high-quality beauty goods at prices so great you'll happily add them all to your shopping cart during your next discount haul.
The line, with includes over 35 products ranging from color cosmetics to thoughtfully designed beauty tools, is now available on Saks Off 5th's website and in select retail locations — like the 57th Street store in New York, the Beverly Connection location in California, Washington D.C.'s Off 5th brick and mortar, and more. And with prices ranging as low as $4.99 and not exceeding $60, it'd barely be considered a splurge to stock up the next time you're shopping the well-loved reduced-price department store.
Scoop up the line's snag-free Spiral Hair Ties, $4.99 for a set of three in chic metallic colors, to stash in your gym bag or at your desk for post-workday workouts. They promise to hold your ponytail securely without getting painfully caught in your strands — plus they just look so pretty, you won't mind having one on your wrist while going about your day.
And as you're thinking about your hair, grab FIFTH CITY's new Embellished Towel Turban, $12.99, which has got to be one of the chicest ways to dry your hair after a shower. The super-soft texture reduces frizz, breakage, and blow-dry time, so it's an all-around win. Plus, with the cute jewel closure, it'd be pretty hard not to snap a few selfies in it while clocking in some much-needed "me time".
The rest of the range's offerings comprise chic makeup brushes and color cosmetics, like highlighters, creamy blushes, and blendable shadows, all three of which come in easy-to-use stick applicators that require nothing more than your own fingers to dab and blend the products into your skin. Opt for day-to-night colors like the Highlighter Stick in Goddess, $20, a bronzed shade that'll look as great in summer sunlight as it will at a candlelit dinner table.
Keep scrolling to discover more of the well-priced luxury products in FIFTH CITY's inaugural collection, and go ahead and stock up on them all during your next Saks Off 5th shopping spree.