Rouje Founder Jeanne Damas' Signature Red Lip Color Is Now Shoppable At This Cult-Favorite Beauty Store
COURTESY OF ROUJE PARIS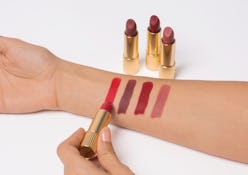 French It-girl Jeanne Damas, founder of fashion-girl favorite brand Rouje, is not only known for her effortless, Parisian style that has garnered her 1.1 million followers, but for her signature red lips, too. And now, you can complete your look à la Damas with a swipe of a vivid red hue from Rouje's Le Rouje de Paris lip collection (and update your own makeup bag with a few other new colors while you're at it).
It only takes one scroll through Damas' Instagram to see that Rouje's creator is fond of a brightly-colored lip, thus making a capsule of go-to lipstick colors a natural evolution for the brand. While shades have been available on Rouje's site, this collection has now officially made its debut on Violet Grey.
Why is this noteworthy? A spot among the curated selection of products on the beauty destination's site means that these lipsticks have received the stamp of approval from artists, beauty experts, and Hollywood influencers alike. So you can make your purchase with confidence knowing it's been tested by industry insiders.
Coming in four shades for $29 each, the lipsticks range from a classic red appropriately called Jeanne to a deep brownish-plum shade entitled Lamia. For those who want to give the deep wine lip trend a go, take a peek at the rich color of Camille. As for a light option? Try Émilie, a pinky-nude hue that you can apply to perk up your pout in a more subtle fashion. And if you (understandably) can't decide on one tube, get all four colors in one versatile compact palette for $45 and experiment with the range by blending them together on your lips to create your own unique hue. Plus, as Violet Grey notes, you can smooth the shades on your cheeks and eyes too.
The creamy, matte formula promises highly-pigmented color that provides for full-coverage — aka these colors pack a punch. And, to reaffirm this sentiment, just take a look at the editor's note on Violet Grey, which reads, "Our editors were particularly drawn to the lipstick's sublime texture and long-lasting wear."
If you're not completely sold on these lip colors just yet, perhaps the fact that they come in golden, vintage-esque cases will push you to click add to cart. There's no doubt the pretty packaging will bring a certain je ne sais quoi to your vanity.
Due to Rouje's popularity, this capsule collection is likely to sell out quickly. So see and shop the lip colors below to snag the shades you want before they're all gone.