Rosie Huntington Whiteley Is Obsessed With This Affordable Makeup Remover
Presley Ann/Getty Images Entertainment/Getty Images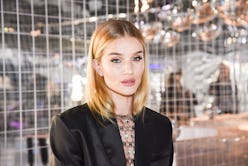 As you'll quickly come to learn, the nighttime regimes of the some of top models in the industry — Rosie Huntington-Whiteley's skincare routine included — all start with a good makeup remover. Miranda Kerr prefers a cream-based formula, while Devon Windsor reaches for a Shiseido face wash for a deep clean before bed. Now, Huntington-Whiteley is the latest model to reveal her go-to makeup remover — and it's one you should definitely work into your own evening routine, too. It's so easy to use, affordable, and super gentle on your skin.
Huntington-Whiteley has some of the best skin in the business, so when she talks all-things skincare, you can bet the world listens. In a newly released video, the model unveils every product she currently uses in her evening lineup, from her preferred scrunchies of choice — because yes, pulling your hair back is an important first step in thoroughly washing your face — to the moisture-boosting mist that hydrates, cools, and brightens her skin in seconds.
The real standout in her routine, though, was her makeup remover. As Huntington-Whiteley explains in the video, the first thing she does when she gets home is wash off all of her makeup from the day, kicking off her routine with a super-gentle, non-rinse cleansing water by Bioderma. The formula, which has earned cult-favorite status in the industry, soothes skin and promises to leave it feeling squeaky clean, thanks to its potent micelle formula.
What's more, the model's go-to makeup remover is ideal for sensitive, easily irritated skin (and eyes), and it's surprisingly affordable, as well, ringing in at just under $15.
Although Huntington-Whiteley mainly uses the Bioderma water to remove her eye makeup, the multi-purpose cleanser can just as easily be applied on your face, lips, and neck. In other words, it's an all-in-one product that will speed up your evening routine while still delivering a deep, thorough clean.
Other must-have products the model has lined up in her beauty cabinet include a warming honey cleanser, a calming rose water that purifies skin and reduces eye puffiness, and a multi-tasking balm that can be used on the lips, cuticles, and skin for instant hydration.
Improve your skincare routine and emulate Huntington-Whiteley's signature, dewy skin by scooping up some of her recommend products, including her favorite makeup remover, below.
Shop The Products