Rosie Huntington-Whiteley Defines Her Style With These 5 Shoes
John Phillips/Getty Images Entertainment/Getty Images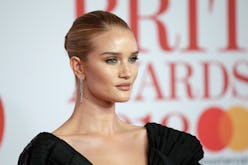 Ever since her catwalk debut roughly 15 years ago, Rosie Huntington-Whiteley's been known to flex her fashion muscles both on and off the runway. Her Instagram account is sprinkled with effortless-looking selfies that spotlight her glowing skin and unique bone structure, along with outfit-of-the-day posts that spark plenty of style inspiration. While she heads up her own beauty-focused digital media outlet and partners with some of the most well-known brands in the industry, Rosie Huntington-Whiteley's shoe game deserves recognition, too.
Although you'll rarely see her donning a pair of sporty sneakers, the 31-year-old model has established her own version of a comfortable shoe collection. While they may not all feel like walking on air, each staple in her footwear closet works to carefully complete her ensembles in ways that are stylish, sophisticated, and cutting edge.
Whether she's sprucing up a cotton midi dress with a pair of metallic sandals or proving that she really can do it all in heels with her toddler in hand, Huntington-Whiteley's shoe collection is truly diverse.
Ahead, explore some of the model's best footwear moments while you shop The Zoe Report's similar picks to add her sartorial touch to your own shoe closet.
Shearling Booties
A lug sole shoe is a cold-weather necessity, and fuzzy details make these boots even more appropriate for the season. But just because a boot is practical and efficient doesn't mean it can't be a fashionable outfit addition. Huntington-Whiteley reveals the power behind a great pair of shearling boots in an Instagram post from 2017. The British-native wore a warm pair of Ugg boots, black denim, a matching t-shirt, and a shearling-lined coat. She completed the relaxed look with a pair of oversized sunglasses, a slicked-back bun, and sleek hoop earrings.
Colorful Pumps
Holiday season may have come to a close, but according to Huntington-Whiteley, the dazzle of sparkly dressing should last all year long. Neutral shoes are no longer a requirement when it comes to styling a bold outfit. In fact, maximalism is totally in fashion. Looking to expand your formal footwear collection with a pair of colorful heels? Start with a ladylike pump, a bright sandal, or a printed platform.
Nude Slides
Nude slides are a wear-with-everything basic. Huntington-Whiteley proved their worth when she wore them with a one-shoulder dress, a Dior saddle bag, and a retro-inspired chainlink belt. Even if there's no formal event approaching on your schedule, nude slides still make for a worthy purchase. Use them to spruce up jeans and a blouse, or hold out until summer and wear them with your favorite daytime dress.
Slouchy Thigh-Highs
Over-the-knee boots have gained momentum over the past few seasons, with Huntington-Whiteley's closet as proof. Rather than choosing a skin-tight thigh-high, the model dressed up a simple look with a slouchy pair of boots. Imitating this look is easy: simply combine black jeans, a white tank, a chambray button-down, and of course, your new favorite boots. This daring style could give your collection of ankle booties a run for their money.
White Heels
It's no secret that white shoes go with pretty much everything. Whether you want to add a feminine touch to a structured pantsuit or make distressed denim look more polished, white heels are your answer. In a recent Instagram post, Huntington-Whiteley posed with her baby on her hip, wearing slim-fitting gray trousers, a cropped-sweater, a boxy blazer, and white heeled sandals.