Rituel De Fille Finally Created The Subtle Rosy Lip & Cheek Color You've Always Wanted
Rituel de Fille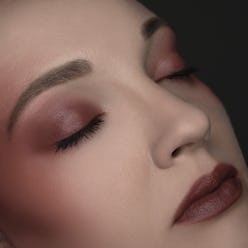 Look, no one needs to tell you that there are a lot of makeup brands out there. Oftentimes, that means the relatively lesser-known beauty brands get ignored. But if you haven't stayed up-to-date with Rituel de Fille's Inner Glow Crème Pigment — and the brand itself — since it made headlines for being a "black highlighter", you may be missing out on the pretty, subtle makeup you've always wanted. Rituel de Fille released two new shades of its famous multi-use pigment Feb. 15, including a perfect, barely-there rosy tint.
That dreamy wash of color goes by the name "Lust". The Inner Glow Crème Pigment shade retails for $29, and was released alongside the pigment shade "Eros", a rosy-sand color that's just as wearable. Both come in a "dewy matte" finish — aka they make your skin appear like it's glowing from the inside out. The post-spa effect has won the pigment fans; it has a nearly 5-star rating on Rituel de Fille's website, where reviewers have dubbed it the perfect blush.
But it's not just a blush, just like Rituel de Fille's "Eclipse" Inner Glow Crème Pigment didn't grab the world's attention back in 2017 solely due to its unabashedly gothic shade. The pigment isn't simply a blush or a highlighter (or an "anti-highlighter", as the dark hue was dubbed): It can be used as a blush, eyeshadow, lip color, contour, or highlighter, depending on your mood. The color is sheer and buildable, letting you choose how deep you want it to appear.
That means you can use the rose-colored pigment as a lipstick during the week, a light blush over the weekend, and as a more dramatic, warm-tinted eyeshadow for special occasions. Like all Rituel de Fille products, the pigments are cruelty-free. You can even read in-depth explanations online about the ingredients the makeup company uses, too.
Completely stuck between the rosy "Lust" and the more neutral "Eros"? Rituel de Fille offers makeup color consultations, as well. Just email the brand, and its artists will offer up advice on which shades work best for you. However, the brand encourages shoppers to include personal preferences, so the results will be even more tailored to your unique style.
Ahead, both new Inner Glow Crème Pigment shades — all you need to do now is pick which multi-use color you'll want to use for everything.