Rita Ora Is The New Face Of Escada — & Her First Collab With The Brand Is So Good
Courtesy of Escada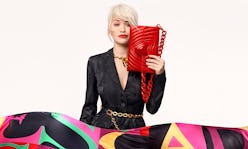 On Weds. night, the fashion community gathered in New York City to celebrate the launch of Rita Ora's new Escada campaign. Most attendees arrived carrying the German label's signature Heart Bag in a brand-new bright-red hue. The limited-edition bag is Ora's first collab as the face of the brand.
Escada announced the singer as an ambassador in Jan. after getting a new global design director, Niall Sloan, who seems to be doing a bit of an aesthetic overhaul of sorts. Since then, photos of Ora wearing a retro, rainbow-colored monogrammed jacket standing alongside a life-sized version of the brand's Heart Bag have been cropping up.
Ora, herself, put her own spin on Escada's familiar bag as part of her first ambassador project. Her customized design is all red — including chains and hardware — because you know how much Ora loves a fiery hue.
The bag, which dropped on Thurs., features a fun quilted heart design with a heart-shaped clasp fastening and a chunky plastic monochromatic shoulder strap that can easily be removed for those who'd rather carry a handheld clutch.
Model Winnie Harlow was in attendance to support Ora at the launch event. She paired the vibrant Heart Bag with a checked, fur-trim trench coat and tall black boots, sitting next to the woman of the hour all night.
The bag is now available for $1,195, but you can feel guilt-free because part of the proceeds go to charity. Because Ora was born in Kosovo, as many may already know, she chose to donate to Women for Women, a charity that helps females in conflict areas like her home country.
"The charity helps women get back on their feet and that's very special to me," the singer said in an interview with WWD when the partnership was announced in Jan. "It goes back to Escada's DNA and what they stand for."
It makes sense that Ora would choose monochromatic red for her new bag design, too. She's gone out dressed head-to-toe in this fiery shade more times than you could count. In fact, it's become sort of a signature color for the British singer. On Weds., the 28-year-old let her bag shine, pairing it with a contrasting all-white pantsuit and sleek white boots.
Between this cute Heart Bag and the PVC pumps Ora designed for her other new collab with Giuseppe Zanotti, it looks like your wardrobe should be all set for spring.
Shop The Look