Here's When You Can Shop Rihanna's Highly Anticipated Fashion Line (Spoiler: It's So Soon)
Caroline McCredie/Getty Images Entertainment/Getty Images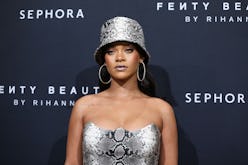 On May 10, Rihanna finally confirmed via an Instagram post what had long been speculated: The singer and media mogul is, in fact, launching a luxury fashion label under the LVMH umbrella — the first from-scratch line the Paris-based luxury goods corporation will introduce to the world since 1987. Few details surrounding the momentous collaboration have been released since the news broke earlier this month, but on Mon., one major facet was divulged: the official launch date of Rihanna's FENTY fashion line — and it's sooner than you probably thought.
Get ready to mark your calendar, because the singer's FENTY fashion brand will make its online debut on May 29 — talk about a way to end the month on a high note. If you just so happen to be in Paris, though, you can get your hands on the collection before it drops everywhere via a pop-up store that's set to open on May 24.
In addition to the launch date, the brand also released an epic campaign video on Mon. that offered up a glimpse of what you can expect from the singer's sure-to-be iconic FENTY collection. A few key takeaways? In true Rihanna form, you can look forward to structured silhouettes, strong statement shoulders, exquisite corsetry, and lots of bold, daring accessories.
"Women are forces of this earth. We are multifaceted, complex, vulnerable yet bulletproof, and Fenty speaks to all of our intricacies," Rihanna explained in a press release. "It was imperative that we created a line versatile enough to embrace and celebrate us. The collections are easily worn together and meant to be staples in our wardrobe," she added.
Rihanna's fashion FENTY fashion line is here to break boundaries and disrupt the luxury market as you know it. Not only will the singer become the first woman to create a brand at LVMH, but she'll also be the female of color to head an LVMH maison.
What's more, the brand also won't be following the traditional luxury distribution model, focusing instead on direct-to-consumer online sales — a move that will allow the singer (and her team) to drop new pieces every few weeks.
Per the press release, "FENTY epitomizes both the spirit of Rihanna and a new approach to modern luxury: agile and dynamic; elevated yet egalitarian; bold, free, fearless." The singer's fashion line is sure to be a major fashion game-changer, but then again, did you really expect anything else from the powerhouse?